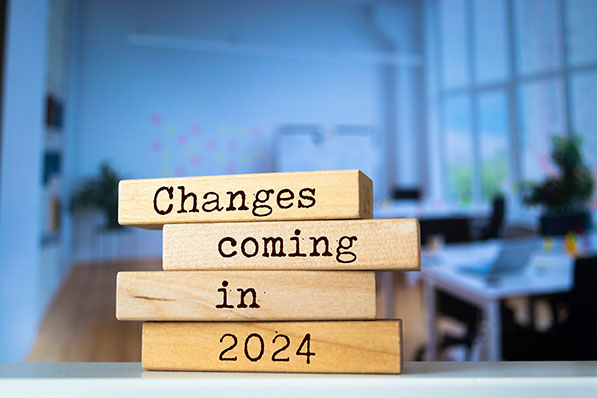 This year's legislative session ended with a flurry and, as usual, hundreds of bills were sent to California Governor Newsom's desk, many of which impact employment law. Now that the dust has settled, the ink is dry and the Governor's October 14 deadline has passed, here's a quick look at some of the new labor and employment laws that employers should be aware of. Unless otherwise stated, these bills are effective starting January 1, 2024.
Leaves of Absence
Governor Newsom signed SB 616, a major expansion of the state's paid sick leave (PSL) law, the Healthy Workplaces, Healthy Families Act of 2014. The basic framework remains the same, but the amount of leave employers must provide increases from three days or 24 hours to five days or 40 hours. The bill also raises the cap employers can place on PSL and the number of sick days an employee can roll over to the next year.
SB 848 creates a new leave of absence for an employee's reproductive loss, requiring employers to provide up to five days of leave for certain reproductive loss events defined in the law, including a miscarriage, failed adoption, failed surrogacy, stillbirth or an unsuccessful assisted reproduction.
Workplace Safety
SB 553 enacts general industry workplace violence safety requirements that will be applicable to nearly all California employers, under the jurisdiction of the California Division of Occupational Safety and Health (Cal/OSHA). Under the new law, covered employers have many new obligations, including developing and implementing a workplace violence prevention plan (WVPP) as part of their required Injury and Illness Prevention Plans (IIPP).
The law requires employers to comprehensively address 13 different topics in their WVPP, which will look familiar to employers who had COVID-19 prevention programs under Cal/OSHA's COVID-19 emergency temporary standards. Employers will also have to provide training, create workplace violence incident logs and keep various records for up to five years.
These requirements have a delayed implementation, taking effect on July 1, 2024. Employers have some much-needed time to create and implement their plan.
Discrimination, Harassment and Retaliation
Last year's cannabis discrimination law will take effect on January 1, 2024, prohibiting employers from discriminating against an employee or applicant based on the person's use of cannabis off the job and away from the workplace. Employers may still conduct preemployment drug testing, and an employer can still refuse to hire someone based on a valid preemployment drug screening that looks only for psychoactive cannabis metabolites.
Additionally, employers may not request information from a job applicant about their prior use of cannabis. Information about an individual's prior cannabis use obtained from their criminal history is also off limits unless the employer is allowed to consider it under the state's Fair Chance Act, the law that places strict limits on the review and consideration of criminal history in employment decisions.
California also expanded its retaliation protections. Under current law, employers cannot discriminate or retaliate against employees for engaging in certain protected activities, such as filing a complaint with the California Labor Commissioner for a wage-and-hour violation or serving as a whistleblower. SB 497 adds a rebuttable presumption in favor of an employee's claim if an employer takes adverse against the employee within 90 days of the employee's protected action. This means the law will presume the employer retaliated against the employee if they take an adverse action within 90 days of the employee's protected activity, shifting the burden to the employer to rebut that presumption with sufficient evidence.
Notice Requirements
Labor Code section 2810.5 requires employers to provide a wage and employment notice to new hires that contains certain specified information. AB 636 requires employers to provide information about federal and state emergency declarations applicable to any counties in which employees are employed. Additionally, employers will be required to provide information about rights and protections under California law to H-2A employees. The California Labor Commissioner will create a template notice that meets the new requirements.
Industry-Specific Laws
California passed several bills continuing its trend of regulating specific industries. This year, Governor Newsom signed laws aimed at the fast food, health care, grocery store and retail industries.
AB 1228, a redux of last year's Fast Food Accountability and Standards Recovery Act (FAST Recovery Act), establishes the Fast Food Council, which will work to establish minimum wages, working hours and other working conditions for fast food restaurants. The law raises the minimum wage for fast food restaurant employees to $20 per hour beginning April 1, 2024. After the initial 2024 increase, the council may establish a new minimum wage rate beginning January 1, 2025.
SB 525 establishes five new minimum wage schedules for certain health care employees depending on the nature of the employer. This law applies to a wide range of health care facilities ― the statute lists 20 types of facilities, including hospitals, clinics, skilled nursing facilities, psychiatric and mental health facilities, home health agencies, residential care and many others. Minimum wage increases under the law begin June 1, 2024.
AB 647 and AB 853 both impact grocery stores and certain retail stores, expanding and revising the requirements the law places on successor grocery employers' hiring and reinstatements when there is a change in ownership or control.
COVID-19
SB 723 extends an existing law that provides workers displaced due to COVID-19 in certain industries with various recall rights when the employer has open positions. SB 723 extends this law another year, to the end of 2025, but adds that covered employees separated from employment are presumed separated due to a COVID-19-related reason unless the employer establishes otherwise.
Additionally, two COVID-19 laws that have been on the books since 2020 are sunsetting at the end of 2023.
The first is California's COVID-19 notice requirements found in Labor Code section 6409.6, which requires employers to provide notice of COVID-19 exposures in the workplace, are expiring at the end of this year. Employers should remember, however, that even after the state notice requirements expire, Cal/OSHA's COVID-19 non-emergency regulations still require employers to notify employees and independent contractors who had a close contact with a COVID-19 case, as well as any employer with an employee who had a close contact, as soon as possible.
Second, California's 2020 COVID-19 workers' compensation presumptions for workers, first responders and health care personnel, as well as the workers' compensation notice requirements, also ends this year.
James W. Ward, J.D., Employment Law Subject Matter Expert/Legal Writer and Editor, CalChamber
CalChamber employment law experts will cover the new employment laws for 2024 in more detail in the October issue of our HRCalifornia Extra newsletter (subscribe to HRCalifornia Extra) and in our annual new laws whitepaper (coming in November). Not a member? Learn more about how HRCalifornia can help you.