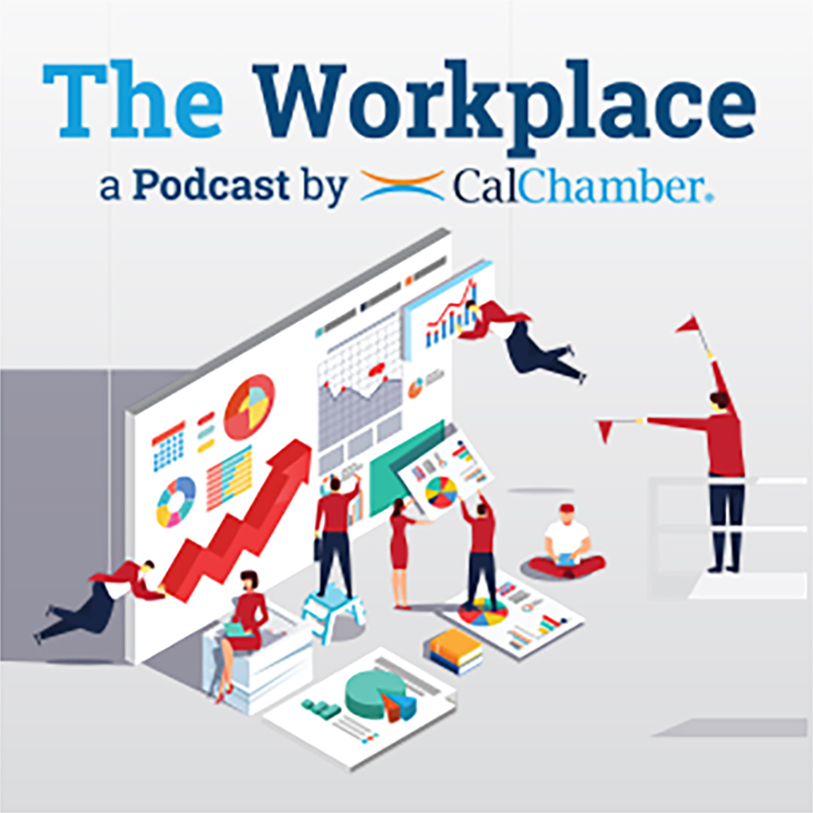 In this episode of The Workplace podcast, CalChamber employment law expert Matthew Roberts and CalChamber Policy Advocate Ashley Hoffman discuss four bills that, if passed, would significantly affect California employers — and not in a good way: SB 809, AB 747, SB 399 and SB 525.
SB 809: Replaces Fair Chance Act
In the podcast, Roberts and Hoffman start by discussing SB 809, which Hoffman says would, at its core, replace the Fair Chance Act, which prohibits employers from asking about an applicant's conviction history during the hiring process and allows employers to run a background check only after making a conditional job offer.
SB 809 goes quite a few steps past that, according to Hoffman, who says that it essentially prohibits employers from inquiring about conviction history and running background checks — or considering such information even if it's voluntarily disclosed or readily available online.
"So even if you saw an article about your employee or an applicant and something they did, you could not consider it when you're deciding whether to hire or promote someone," she says, adding that the only exception is if existing law specifically grants the right to do a background check, "or essentially grants you the right, by saying something like, 'You can't hire someone who has had a DUI for this position,' or something along those lines" (as seen in certain health care-, banking- or transportation-related positions).
This concept raises many red flags with employers, Roberts says, adding that SB 809 also would affect the federal Fair Credit Reporting Act (FCRA) and California's Investigative Consumer Reporting Agencies Act (ICRAA), both of which mandate that employers follow certain disclosure and authorization requirements when running criminal background checks.
The bill, Hoffman explains, would amend the ICRAA to require that any investigative consumer report notice also include:
All specific job duties for the position that may have a direct or adverse relationship to a potential conviction; and
A statement that includes all of the laws and regulations that impose restrictions or prohibitions for employment on the basis of a conviction that would prohibit the employer from hiring a certain person.
And the big issue here, she notes, is that ICRAA/FCRA cases are brought all the time, so if an employer were to forget one regulation, one law — or forget or not realize one job duty should be included — they could face serious litigation for a violation.
The biggest concern, however, is the prohibition on background checks and conviction history, Hoffman says, because many laws out there allow employers to run a background check or say some individuals can't be hired for certain positions. But many industries — like restaurants and other customer-facing industries, or businesses that aren't banks but handle sensitive financial information — aren't covered by such laws, and not being able to run a background check could put those businesses in a vulnerable position.
And that vulnerability extends to workplace violence, sexual harassment and sexual assault. "You don't want to be hiring someone who has a record of that, and then put them in a position where they may be working alone with a coworker," she says, "and, unbeknownst to you, that coworker's now vulnerable."
AB 747: 'Restricts' Already-Prohibited Noncompete Clauses
Noncompete agreements — agreements that essentially prohibit an employee from working for a competitor within a certain timeframe — are unenforceable in California. But because the Federal Trade Commission (FTC) recently declared it was going to work toward restricting their use and President Joe Biden made remarks about the practice, the California Legislature is attempting to "tighten the screws a bit further" with a few bills, one of which is AB 747, Roberts says.
Despite state statute being interpreted to outlaw noncompete agreements and California courts for decades holding them unenforceable, Hoffman says, technically nothing in the Labor Code specifically bans them. "So, [AB] 747 wants to codify that," she says, "as well as include an enforcement mechanism by which there could be penalties if you're including these agreements in your employee contracts."
This bill also includes a training component that Hoffman says is concerning. Currently, under Labor Code section 2802, employers are required to reimburse employees for any reasonably necessary business expense, which has been interpreted to also include employer-mandated training — but doesn't include something like a license. Under AB 747, essentially any training an employee would need to do their job is included as reimbursable, and the bill really exempts licensure only before someone is in the position.
"A lot of the impetus for this came from some reports about employers who sometimes will pay for an employee to have certain training, and then they say, 'Oh, if you leave before two years, you have to pay us back,'" Hoffman says. "And that is being viewed, I think, by the author as a form of a noncompete."
The key with this bill, according to Hoffman, is to strike a balance in this legislation between employer-mandated trainings and not hindering employers' willingness to pay for employees to get, say, a master's degree or something along those lines.
SB 399: Political Communications
Since the start of the pandemic, Roberts says, employers have become more and more comfortable finding their voices around political issues — and SB 399 addresses their ability to share their opinions with employees.
More specifically, Hoffman says the bill states that employers aren't allowed to require employees to attend a meeting or "participate in communications" regarding political or religious matters — and "political matters is really where the heart of the bill is," she says. "It's essentially where the employer is expressing their viewpoint on political matters, which could include legislation, a political party, a candidate, whether or not to join or not join a labor organization."
This bill, Hoffman continues, essentially takes away the employer's right to have what are sometimes referred to as "captive audience" meetings, where they require employees to attend and could express their opinion on unionization, for example. But the way the bill is written, she says, could have a chilling effect on any discussion regarding politics or unionization.
"If you're standing in the hallway with your supervisor and they start talking about something, or maybe someone else comes up and asks a question — you could see an employee saying, 'Oh, I felt like I couldn't leave,'" Hoffman says. "I think the consequence of the bill is that it's going to make employers feel like they can't ever talk about these subjects. … When you have a bill out there like this, it makes you feel like you really can't say anything to your workers."
One thing to note is that other states have attempted to pass this type of bill and local jurisdictions have attempted to pass such ordinances — most of which have been struck down when challenged, as they were preempted by the National Labor Relations Act (NLRA). Concerns about the First Amendment and an employer's right to talk about some of these issues also exist.
Interestingly, California already prohibits forcing an employee to engage in politics and retaliating against employees based on engaging or not engaging on certain issues, Hoffman says, and a lot of rules already exist around what employers can do as far as discussing unionization: They can't threaten someone, promise something in exchange or spy on them. "A lot of these protections, from our point of view, really are already in place."
SB 525: Health Care Facility-Based Minimum Wage
Over the last few years, the California Legislature has moved into crafting rules and regulations that apply only to particular industries, Roberts says, and this year's SB 525 would require health care facilities to pay all of their workers a minimum of $25 per hour, which would mean $50 per hour minimum for salaried workers.
But SB 525 isn't limited solely to health care employees.
"If you read the language, this $25-per-hour requirement actually applies to anyone who steps foot on the premises of a health care facility or does work for a health care facility," Hoffman says, noting that a delivery driver would qualify for this minimum wage while making deliveries at the hospital, as would caterers for an event held on hospital grounds. "It's actually putting this really significant minimum wage increase and the obligations from that on quite a few companies that are not, themselves, health care facilities."
For Roberts, this bill is akin to how local ordinances in California operate.
"With the local ordinances, where you're performing the work is within the city limits," he says. "And as you've explained with this health care minimum wage, you're just performing the work at a health care facility — you're not an actual health care employee, which I think is a problem here."
The California Chamber of Commerce is the largest broad-based business advocate to government in California, working at the state and federal levels for policies to strengthen California. Not a member? Learn about the benefits of membership.