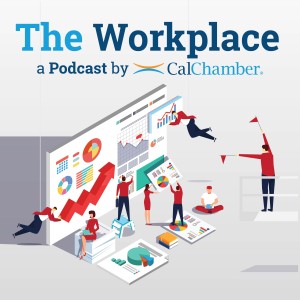 In this episode of The Workplace podcast, CalChamber Executive Vice President and General Counsel Erika Frank and employment law expert Jennifer Shaw discuss how employers should prepare for the newly signed family and medical leave law (SB 1383) that expands the California Family Rights Act (CFRA) and takes effect on January 1, 2021.
Burden on Employers
Many employers may be accustomed to leave laws, such as CFRA and the federal Family and Medical Leave Act (FMLA), that apply to employers who meet a threshold of 50 or more employees. Fifty employees has been considered a magic number because larger employers can be more nimble and pivot their workforce better to cover those employees who are out on leave, Shaw explains.
SB 1383 (Jackson; D-Santa Barbara) is significant because it changes the 50-employee threshold in CFRA to only five employees. In combination with the COVID-19 pandemic, many employers are worried, and this new law certainly presents a huge burden for them to face at this point, she tells Frank.
Frank points out that businesses' concerns don't mean they are not sympathetic and empathetic to their employees' needs; rather, businesses are concerned about the feasibility of being able to stay in business.
"It's not just about the leave, it's the duration of the leave. It's all the hoops and hurdles that are part of this leave," Frank says.
SB 1383 is burdensome for two main reasons, Shaw says:
The law provides 12 weeks of job–protected leave, and it could potentially be longer than 12 weeks in some cases. This means employers must continue to provide health benefits and other entitlements granted under CFRA.
The amount of paperwork that is involved. Employers must keep track of what documents must be given to employees on leave, and if an employee decides to take leave intermittently, employers must keep track of those hours as well.
SB 1383 presents issues for larger employers too, Shaw stresses.
The law expands the definition of "family members" to now include relatives such as adult children and siblings, among others. And because these new categories are not covered by the federal FMLA, SB 1383 creates the possibility for employees to stack leave, she explains. For example, an employee can take 12 weeks of leave to care for a sibling under CFRA, and then another 12 separate weeks to cover an illness under FMLA. This means that eligible employees can potentially take 24 weeks of leave, and not just the 12 weeks to which larger employers have been accustomed.
"So this is a huge development, not only for the smaller employers," Shaw says.
Frank agrees, and brings up pregnancy-related leaves and pregnancy discrimination laws. Should an employee qualify for a pregnancy or childbirth-related disability, the employee may now have upwards of a year off in protected leave.
Preparation Tips, Eligibility
Employees are eligible for the leave provided under SB 1383 if they have worked for the employer for at least 12 months, and have worked at least 1,250 hours at the worksite in the one-year period preceding the leave, Shaw explains.
To prepare for the new law, which takes effect on January 1, 2021, Shaw recommends that employers:
Get educated on the law's details. The CalChamber will be offering webinars and other educational materials in the coming weeks and months.
Designate someone in your company to handle leave administration, requests and issues onsite.
Start gathering and getting your forms and documents ready.
Subscribe to The Workplace
Subscribe to The Workplace on Google Play, iTunes, PodBean, Tune In and Stitcher.