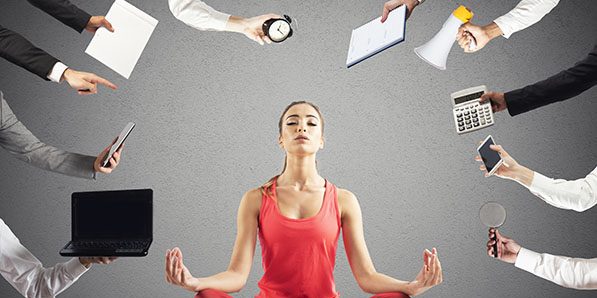 In the modern workplace, advancements in communications and technology are supposed to make things easier, right? Unfortunately, that isn't always the case. In a recent survey by wellness and technology neuroscience company Neuvana, 61 percent of respondents feel pressure to respond to emails outside of working hours — even during their vacation. And 82 percent say that a co-worker has contacted them off hours through a personal channel (such as social media) about a work-related matter. Some professionals even say that it occurs once or more per day (35 percent).
Because of this hyper-connectivity, professionals see work-life balance as nearly non-existent. Many respondents (51 percent) feel stressed if they disconnect from work to take time off. Twenty-six percent say it's the stress of meeting deadlines and desire to get ahead that make it hard for them to achieve balance. Even something as simple as taking vacation or some time off to decompress (or disconnect from work) is stress-inducing.
"If today's corporate America doesn't even have time for vacation, how are we supposed to bake stress-relief into our daily lives?" says Neuvana Founder and Inventor Dr. Richard Cartledge in a press release. "The last decade saw us 'busier' than ever at the expense of our health and wellness, but awareness of this problem is only the first step to changing work-life balance in the decade ahead."
According to the survey, 48 percent of respondents say that taking vacation causes more stress than it's worth and 23 percent say they're unable to completely disconnect from work while on vacation. The challenges of taking time off are:
Falling behind at work (23 percent).
Amount to get done before leaving (21 percent).
Getting coverage from colleagues (19 percent).
To help employees avoid burnout, employers should encourage them to take time off — and encourage team members to pitch in during that time. To ensure things are done properly when employees are out, consider cross-training throughout your department so each employee both serves as a back-up and has back-ups who can take on projects while they're out.
Employees shouldn't feel like they must always be connected. With everyone pitching in, employees on vacation can feel secure that their work is being handled, so they can focus on the task at hand — their vacation.
Vannessa Maravilla, Editor, CalChamber
CalChamber members can get more information on vacation or paid time off in the HR Library. Not a member? See what a CalChamber membership can do for you.