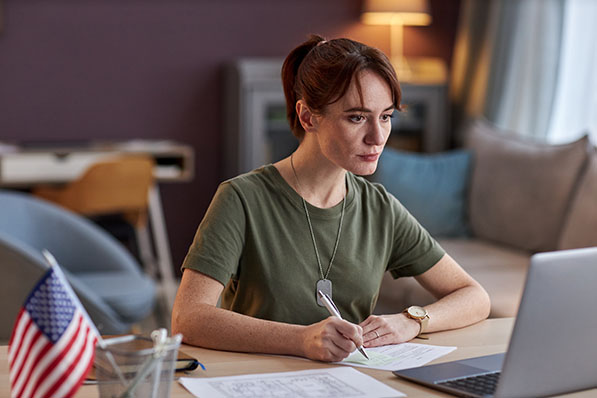 Get ready to file your 2023 VETS-4212! Every year between August 1 and September 30, if you're a nonexempt federal contractor or subcontractor with a contract or subcontract in the amount of $150,000 or more with any U.S department or agency for the procurement of personal property or non-personal services, you're required to annually report your affirmative action efforts to employ protected veterans.
If you're unsure about whether you're required to file this report, the VETS-4212 Report Advisor helps companies determine if they need to submit this form, and, if so, understand the process.
Filers can submit the information using one of the following methods:
Filing on the VETS-4212 website;
Emailing reports to VETS4212-customersupport@dolncc.dol.gov; or
Sending the report via postal mail to:

VETS-4212 Submission
Veterans' Employment and Training Service Center
Department of Labor National Contact Center (DOL-NCC)
3110 Fairview Park Drive, Suite 800
Falls Church, VA 22042
Companies with more than 10 hiring locations can also submit their VETS-4212 report using batch upload to expedite processing. The 2023 VETS-4212 is available for free on HRCalifornia and on the website. While employers can email or mail their forms, the U.S. Department of Labor (DOL) Veteran's Employment and Training Service (VETS) recommends that you file your form electronically.
VETS has frequently asked questions on its website, including a section on how to use the electronic reporting system and how to fill out and complete the report.
Upon the successful submission of your VETS-4212, you'll receive an email confirmation of receipt for your records. These confirmation notifications should be used as verification of submission by federal contracting officers when obligating funds to an awarded contract.
Katie Culliton, Editor, CalChamber
CalChamber members can visit Veterans Reporting in the HR Library. Not a member? Learn how to power your business with a CalChamber membership.