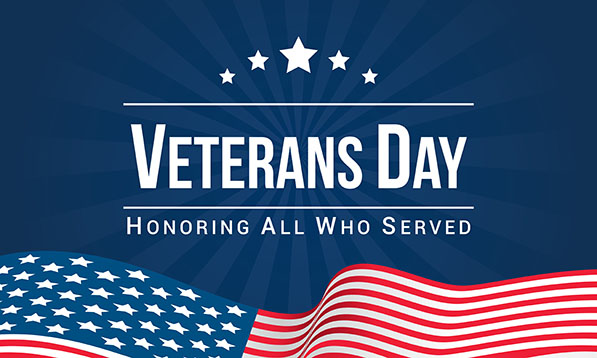 Veterans Day is dedicated to recognizing and thanking the brave individuals who've served in the armed forces — it's also a great reminder of the value, skills and expertise that veterans bring to the workplace.
The U.S. has about 16.5 million military veterans, and about 8 percent — roughly 1.8 million — of those veterans live in California. Various studies (as well as real-world experiences) have found veterans well prepared for independent problem solving, decisiveness and intense focus. As the California Employment Development Department's (EDD) 2019 Veterans Day Workforce Report pointed out, "The veteran's ability to silence distractions is a critical business skill that allows him or her to quickly assess situations and identify solutions that yield positive outcomes."
Post-9/11 veterans are both the youngest cohort and largest segment of the veteran population, but they're more likely to be employed than non-veterans ages 18 to 54 (79.8 percent are employed compared to 74.9 percent on nonveterans). Nearly half of post-9/11 veterans work in just six occupational groups:
Management (11.1 percent);
Protective services (9.9 percent);
Office and administrative support (8.7 percent);
Installation, maintenance and repair (8.8 percent);
Business and financial (6.8 percent); and
Production (6.6 percent).
The higher employment rate for veterans is not surprising. For instance, in addition to the aforementioned business skills that veterans possess, a Syracuse University study called The Business Case for Hiring a Veteran: Beyond the Clichés found that veterans:
Are entrepreneurial;
Assume high levels of trust;
Are adept at skills that transfer across contexts and tasks;
Have advanced technical training;
Are comfortable in diverse environments;
Exhibit high levels of resiliency;
Have strong team building skills; and
Have strong organizational commitment.
For Veterans Day 2022, the California Department of Veterans Affairs (CalVet) created a free poster as a reminder that what these veterans "face at home should never be as complicated and challenging as what they endured during their service." Additionally, the U.S. Department of Labor's Employer Guide to Hiring Veterans makes recommendations on how to attract, train and retain veterans, while the EDD offers assistance and tools to employers to help hire qualified veterans.
Remember, California law protects individuals from discrimination based on military and veteran status, as well as provides certain job protections and return rights after periods of military service. Veterans are also protected under federal law, including the Uniformed Services Employment and Reemployment Rights Act (USERRA). Information on USERRA's protections and employer resources can be found on the Department of Labor's USERRA website.
Hiring veterans is not only a great way to thank them for their service, but also a win for your business.
Katie Culliton, Editor, CalChamber
For more information on military and veteran rights and protection, CalChamber members can visit Military Service Leave the HR Library. Not a CalChamber member? See how CalChamber can help you.