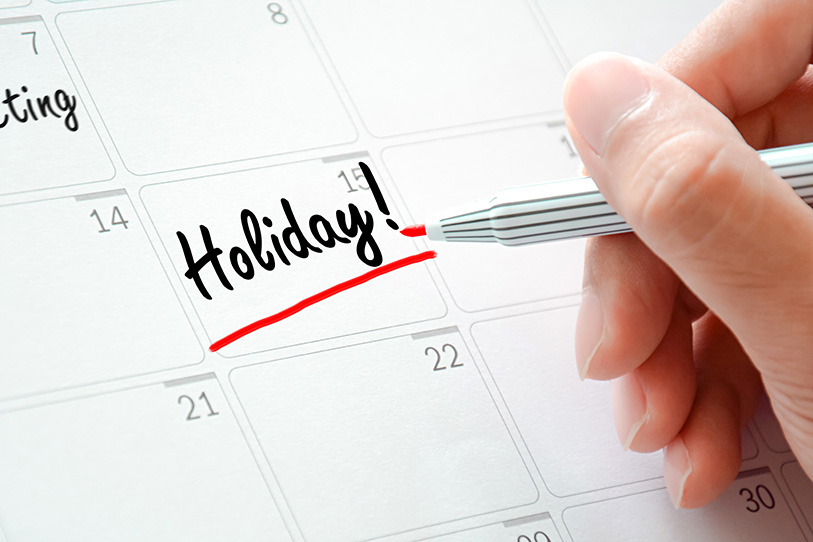 California will have three new state holidays in 2023: Juneteenth, the Lunar New Year and Genocide Remembrance Day. Are we required to give employees days off and pay them for these holidays?
Several new state holidays were created by the California Legislature in 2022 and approved by Governor Gavin Newsom. For example, the California Assembly and Senate passed a resolution declaring April 24 a "statewide holiday" known as Genocide Awareness Day.
But the designation of these new holidays in California is largely symbolic. They are not paid days off for state employees.
Regarding California state holidays, there are two significant things to know:
California state holidays are regulated by statute and apply to public offices and public employees.
Private employers in California are not required to close on any of the holidays designated as state holidays or to provide special treatment to their employees.
Federal holidays work the same way. They apply to government offices and employees.
Public Employers
In California, there are 11 state holidays on which state offices/schools are closed and state/school employees are paid.
The observed state holidays for 2023 are:
Monday, January 2: New Year's Day (observed);
Monday, January 16: Martin Luther King Jr. Day;
Monday, February 20: Presidents' Day;
Friday, March 31: Cesar Chavez Day;
Monday, May 29: Memorial Day;
Tuesday, July 4: Independence Day;
Monday, September 4: Labor Day;
Friday, November 10: Veterans Day (observed);
Thursday, November 23: Thanksgiving Day;
Friday, November 24: Day after Thanksgiving; and
Monday, December 25: Christmas Day.
State Holidays: Public Offices Open
For 2023, there are four recognized state holidays that do not include closures of public offices or paid days off for public employees:
Sunday, January 22: Lunar New Year;
Monday, April 24: Genocide Remembrance Day;
Monday, June 19: Juneteenth; and
Friday, September 22: Native American Day.
Public employees may take one of these new state holidays off in lieu of receiving a personal holiday.
Private Employers
Non-governmental private employers are not required to provide holidays to employees. An employer has the discretion to be open or closed on holidays, to pay or not pay its employees if closed, or to pay or not pay special premium wages if open.
According to the California Department of Industrial Relations, "Hours worked on holidays, Saturdays, and Sundays are treated like hours worked on any other day of the week. California law does not require that an employer provide its employees with paid holidays, that it close its business on any holiday, or that employees be given the day off for any particular holiday."
In practice, many employers provide holidays as an employee benefit. This is done by closing on identified holidays, such as Thanksgiving and Christmas, and paying the employees their full wages as holiday pay. Employers also may remain open on certain holidays but pay employees premium wages, such as 1.5 or 2 times their regular rate. These decisions are left to the discretion of the employer.
It is important to note, however, that employers must reasonably accommodate employees' religious beliefs, which may include leave for religious reasons or holidays. Employers do not have to provide leave for a religious reason if they can show it creates an undue hardship on the business.
Time off and pay for holidays, like paid vacations, have long been ways for employers to compete for employees and attract workers who value their personal time. Employers are free to completely ignore the California list of holidays or to design a policy that fits within their business needs and company culture.
Sharon Novak, HR Adviser, CalChamber
CalChamber members can read more about Holidays in the HR Library. Not a member? See what a CalChamber membership can do for you.