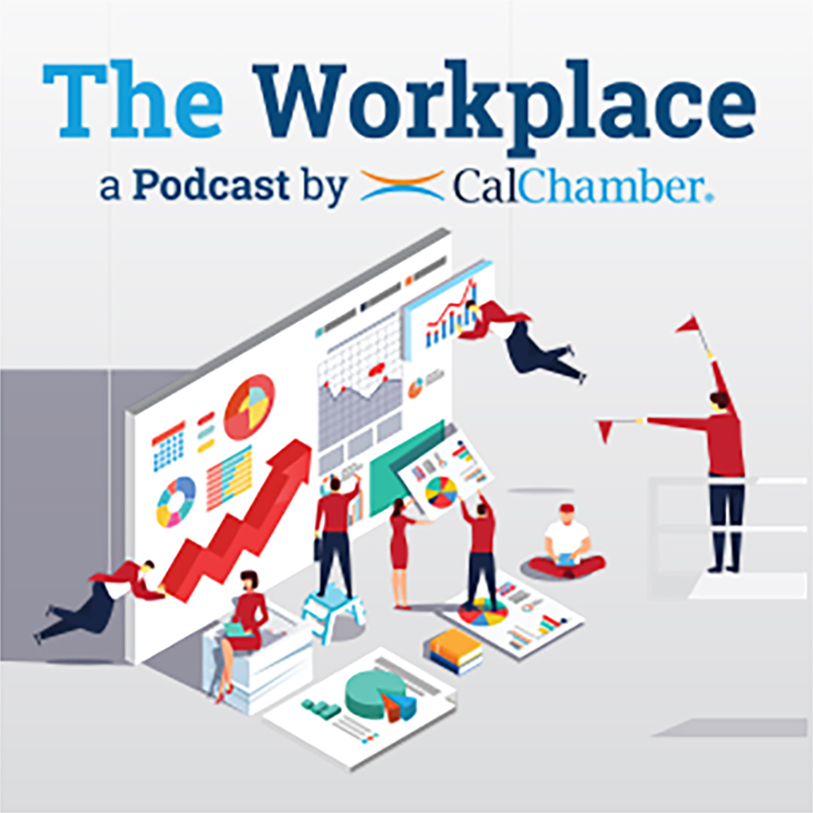 In this episode of The Workplace podcast, CalChamber employment law expert Matthew Roberts and CalChamber HR Adviser Ellen Savage discuss hybrid and in-person work environments and use real workplace examples to share best practices for employers.
Many surveys show that the hybrid work model is currently the work arrangement that employees most prefer, Roberts says in kicking off the podcast. Employees want to be in the office some days and at home other days. While this gives employees a lot of flexibility, there are always some job responsibilities that just get done better at the worksite.
No matter what work model employers choose, there are certain considerations that employers must bear in mind, he says.
Employees Who Relocate Out-of-State
When considering which work model to adopt, employers should determine if there are any employees who have moved out of the area, Roberts says.
"We've gotten … shocking calls from members where they all of a sudden learn that their employee that used to report to this worksite 100% of the time before the pandemic, now all of a sudden doesn't live in the area or doesn't live in the state or even has left the country altogether," he tells podcast listeners.
In this situation, employers will often ask about tax laws, but what they often don't realize is that there's more to it than just taxes, Savage points out. There are many labor law issues that arise because the employer is now a multistate or even a multinational employer, and they must now pay attention to the laws in the jurisdiction where the employee is working.
Ultimately the situation becomes a practical reality for employers, Roberts says. Employers should think about what they want a work-life balance to look like going forward and how hard they want to bring the hammer down on employees. Employers don't want to lose valuable talent, but what happens when you need that talent in the office and they're not there? And what can an employer do if workers are asked to come back into the office, but an employee simply doesn't want to?
If the situation is simply that the employee prefers not to come back, then, legally, the employer can require the employee to report to work, Savage says.
Moreover, even if an employer offered a hybrid work arrangement during the COVID-19 pandemic, the employer is not required to offer that option indefinitely. The arrangement was born out of necessity, Roberts says, but that doesn't mean it will work operationally for the employer at this time.
Family Responsibilities
What if an employee tells an employer, "I'm happy to return back to the office, but I have ongoing child care issues, I'm not going to be able to come in." What, Roberts asks Savage, is an employer to do there?
Working parents are in a difficult situation, especially since getting child care is becoming more and more difficult, Savage replies. Still, an employer can legally require the employee to return to the office.
"You want to keep good employees, you want to be as flexible as you can, but allowing people to work from home because they have child care issues opens the door to the next employee who says, 'Oh, I don't want to leave my pandemic puppy at home alone, or my elderly parents need me,'" Savage says. "You have the right to have those people come back to work."
Immunocompromised Employees
If an employee comes forward and says they are immunocompromised or live with someone who is immunocompromised and cannot come back into the office, what do employers need to do?
Savage explains that immunocompromised employees will need to be accommodated because they are protected under disability accommodation laws (Americans with Disabilities Act and California's Fair Employment and Housing Act). The Equal Employment Opportunity Commission (EEOC) released guidance for employers that stated that if an immunocompromised person was able to do their job, and do it fine, at home during the pandemic when the employer's office was closed, then that can be used as evidence that there's no reason that it is an undue hardship for the employee to still work at home.
Employers are not legally obligated to accommodate an employee who lives with someone who is immunocompromised.
Travel Time, Work Expenses
Many compensation-related issues arise in hybrid work arrangements, such as paying for travel time, paying for home energy bills and even paying for an employee's toilet paper.
Right now, the Labor Commissioner has not released any guidance about how remote work or hybrid work affects wage and hour laws, Savage says.
One distinction that employers should think about is the difference between requiring employees to work remotely and an employee who has an office but prefers to work from home. If it's the latter situation, then the employer likely does not have to pay commute time, she says.
Roberts says there's been an explosion of litigation and lawsuits regarding expense reimbursement. Some workers are not just asking for expense reimbursement of ordinary office supplies or cell phone usage — some are asking employers to pay the air conditioning bill and even pay for the toilet paper used at home.
Choosing what expenses to reimburse will likely depend on whether working remotely is optional or required. Savage explains that Labor Code Section 2802 states that the term "necessary expenditures" means all reasonable costs. If an employee is working remotely because they don't have an office they can work in, then paying for a desk, internet or other supplies is necessary. If, however, the employee is working from home because it's more convenient for them, then the employer probably doesn't have to pay those expenses.
One takeaway of this issue is that the statute is being interpreted very broadly. So, do the claims that toilet paper and air conditioning are business expenses actually have merit? The answer is "possibly," Roberts says.
If an employer is presented with something like this and it's not something they want to reimburse, then they should really pick up the phone and call their friendly neighborhood employment law counsel, Roberts urges.
Dress Code
Many employees have been enjoying not having to abide by a dress code when working remotely. Can employers keep a dress code in place when bringing employees back to the office?
Absolutely, Savage says. "Employers absolutely have the right to continue to have whatever dress code they want. Given the fact that the world has become something of a more casual place due to the time working from home, employers might want to consider whether they do want to relax their dress code to keep workers happy."
Read CalChamber's free Revised Cal/OSHA COVID-19 Workplace Rules: What Employers Need to Know white paper to learn more about what has and hasn't changed and to help you navigate COVID-19-related workplace rules (CalChamber members can read it here). Not a member? See what CalChamber can do for you.