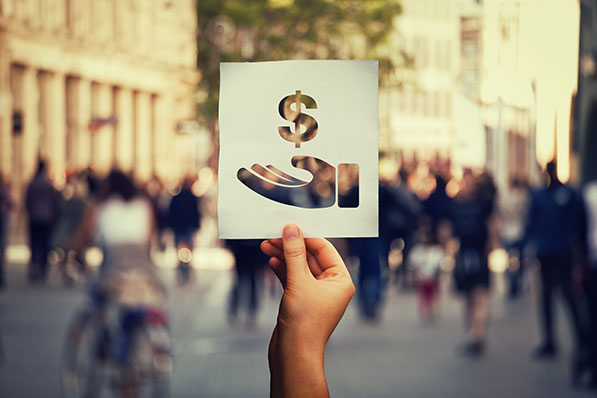 Pay transparency continues to be a hot-button issue in California as employers navigate a tough hiring and retention landscape — and while there are differing views on how employees feel about it, there's also a lot of confusion around what employers can and can't do as far as pay transparency.
According to a recent YouGov survey, which defines pay transparency as the ability to know how much coworkers earn, 32 percent of U.S. employees know nothing about what any of their coworkers make, while only 14 percent know what all of their coworkers earn.
In fact, that survey showed that when asked whether they would rather (A) tell their coworkers how much they earn or (B) run naked through the office in front of their coworkers, a shocking 11 percent chose B and another 34 percent would consider choosing B.
"We are definitely not advocating that people run naked through the workplace," said Matt Gotchy, VP of marketing for Trusaic, a compliance software and consulting company that commissioned the study — and would like to see more pay transparency. "Greater pay transparency is shown to help reduce both gender and racial-ethnic pay gaps."
Despite some employees' hesitancy, so to speak, to share how much they earn, they still want to know what others make — to compare their pay to their peers' pay or that of the market, according to Ruth Thomas, a pay equity strategist at Payscale.
Employers interested in such transparency may ask themselves, "What does pay transparency really mean?" Well, on Gallup's recent "Pay Transparency: To Share or Not to Share?" podcast, Thomas — who notes that pay transparency isn't necessarily about knowing what everybody in the organization is paid on an individual basis — offers some insight.
"[Pay transparency is] generally opening up an understanding around how pay decisions are made in the organization," Thomas said on the podcast, "so that managers making pay decisions and employees on the receiving end of those understand how their pay is determined [and] how their pay can be progressed."
Thomas also notes that at the recruitment stage, people can be made aware of how much they'll earn in certain roles, therefore increasing pay transparency.
In fact, one thing for employers to remember at this stage is that per California's salary history ban, which took effect in 2018, potential employers can neither ask applicants about their salary history nor rely on salary history information to help determine what salary to offer an applicant. This law also requires employers to provide a pay scale (the salary or hourly wage range for the job) to an applicant, upon request, after an applicant has completed an initial interview.
Thomas also noted that at promotion time, salaries can again be advertised. Ultimately, pay transparency can help reduce the pay gaps in gender and race — and closing those gaps is a good thing. California has actually taken steps toward becoming an equal wage state, including passing the California Fair Pay Act, which prohibits employers from paying any of their employees less than employees of the opposite sex or of another race or ethnicity for "substantially similar work." Under the Fair Pay Act, employers cannot prohibit employees from disclosing their own wages, discussing the wages of others, inquiring about another employee's wages, and aiding or encouraging employees to exercise their right to equal pay.
In that same vein, California requires private employers with 100 or more employees — that also are required under federal law to file an annual Employer Information Report (EEO-1) — to submit a pay data report on an annual basis. So, on or before March 31, 2022, employers must send a "snapshot" — information about their employees' race, ethnicity and gender in various job categories (similar to the now-rescinded federal EEO-1 Component 2 report) from any single pay period of their choice between October 1, 2021, and December 31, 2021 — to the Department of Fair Employment and Housing.
Lastly, employees themselves will sometimes share their own compensation rates with each other — and employers should avoid any policy that prohibits them from doing so, as this violates provisions of the National Labor Relations Act and California's Fair Pay Act.
Employers have a great deal of latitude in deciding how transparent they want to be regarding pay. However, it's important to remember that California has laws aimed at increasing pay equity and transparency, and those are non-negotiable.
Beza Sileshi, Editor, CalChamber
CalChamber members can read more about Wage Equality in the HR Library. Not a member? See what CalChamber can do for you.