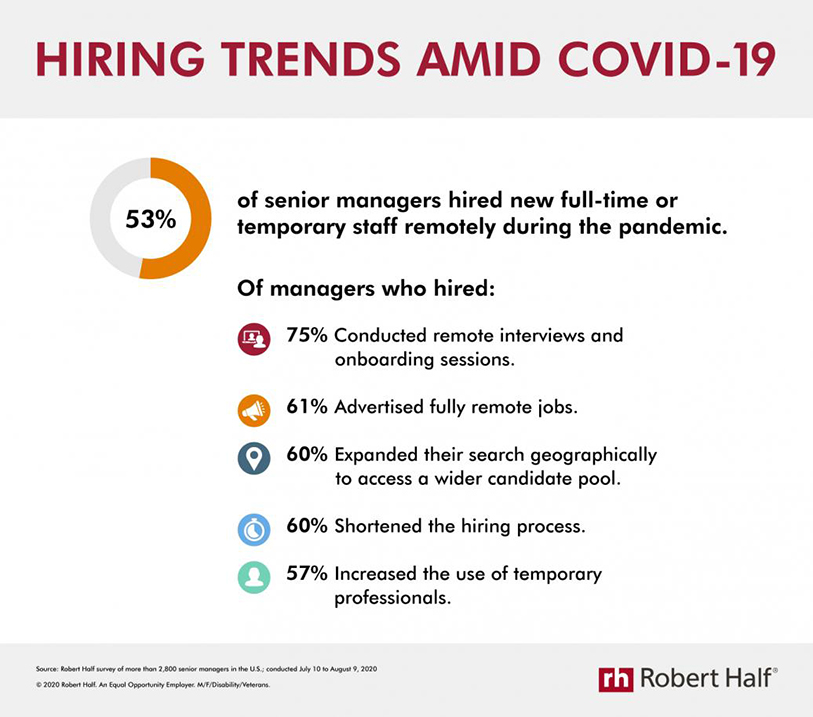 As the COVID-19 pandemic enters its eighth month, face coverings and social distancing are still required in public places, indoor dining is still prohibited in many jurisdictions and, although the school year has started, this back-to-school season looked drastically different than in years past. How companies recruit and hire talent has also been drastically different, according to new research from global staffing firm Robert Half, which found that since the pandemic began, 53 percent of respondents said their organization has remotely hired full-time or temporary staff.
More specifically, since the pandemic began, 63 percent of respondents implemented remote interview and onboarding sessions, 49 percent advertised fully remote jobs and 44 percent geographically expanded their search to access a wider candidate pool. Some companies already had these practices in place before the pandemic started — 12 percent of respondents implemented remote interview and onboarding sessions, 12 percent advertised fully remote jobs and 16 percent geographically expanded their search — bringing the total respondents using these practices to 75 percent, 61 percent and 60 percent, respectively.
"Despite an overall slowdown in business, companies continue to hire for critical roles during the pandemic," said Paul McDonald, senior executive director of Robert Half, in a press release. "In many cases, employers have adjusted their recruiting strategies to accommodate new, virtual work realities and are seeing immediate benefits, including faster and more successful hires."
Among the 28 U.S. cities in the survey, Los Angeles was one of three with the highest percentages of employers who geographically expanded their candidate search (along with Detroit and Pittsburgh). In Los Angeles and Pittsburgh, 69 percent of employers used this approach (compared to 78 percent in Detroit).
"The rise of remote work has provided employers an opportunity to access a much deeper candidate pool," McDonald added. "As organizations try to position themselves for growth in the months ahead, competition for talent will only intensify. The ability to hire people anywhere will be particularly helpful when staffing in-demand roles."
As the economy continues to recover — and based on the latest U.S. Bureau of Labor Statistics data and a recent Monster hiring report, it is recovering — these new remote-work methods of recruiting and hiring could bode well for employers, especially since, as Stanford economist Nicholas Bloom said in a June interview, "the stigma associated with working from home prior to COVID-19 has disappeared."
Jessica Mulholland, Managing Editor, CalChamber
CalChamber members can read about Interviewing Candidates in the HR Library. Not a member? See what CalChamber can do for you.