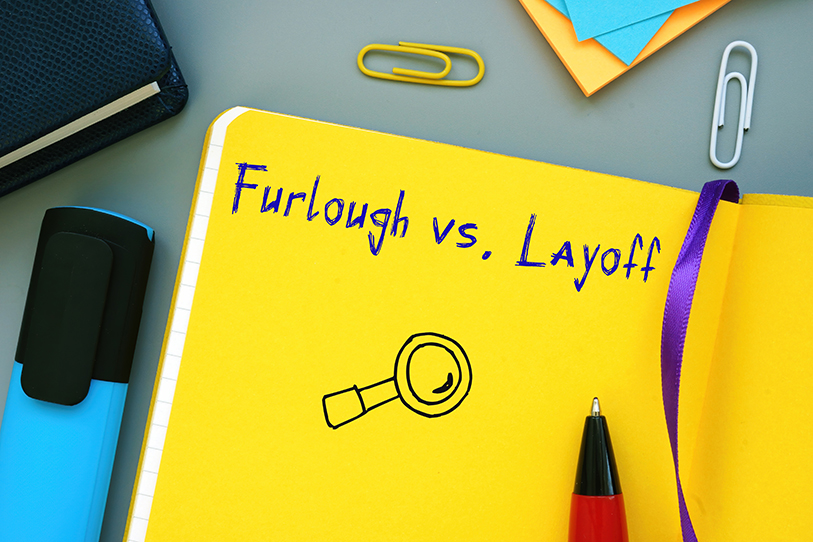 Nearly five months have passed since California Governor Gavin Newsom issued his initial shelter-in-place order. In March, many California businesses were left facing difficult choices due to potential losses in revenue and uncertainty in the future, and, as a result, began evaluating their options, including furloughs and layoffs.
As California eased into a phased reopening plan, businesses began to reopen and recall their workforces. However, California has seen a surge in COVID-19 cases and paused or even rolled back its reopening. Now, many employers are left with the same question from March: How do we handle our workforce while trying to preserve our business?
A common question the CalChamber Labor Law Helpline continues to receive from our members is whether there's a difference between furloughing and laying off employees. Essentially, a furloughed employee remains an employee on the books but with reduced or eliminated work hours, while a layoff generally means a complete severance of employment.
An issue in March still exists today — under the current circumstances, the California Labor Commissioner may see no real difference between a temporarily furloughed employee without any work hours and a laid off employee. In a pair of opinion letters, the Labor Commissioner stated that if an employer reduces an employee's scheduled work hours to zero — and doesn't reschedule that employee within the same pay period — the employer has effectively laid off the employee which triggers the final pay requirements under Labor Code section 201.
In addition to final pay concerns, if an employer with 75 or more employees ends up "furloughing" or "laying off" 50 or more employees from a single location, it may trigger California Worker Adjustment and Retraining Act (CalWARN) notice requirements. Although the notice requirements generally apply to mass layoffs, in recent years, California courts have held that there's no minimum length of time for a mass furlough or temporary mass layoff to trigger CalWARN requirements (The International Brotherhood of Boilermakers, et al. v. NASSCO Holdings, Inc., 17 Cal.App.5th 1105 (2017)). However, even if a mass furlough or layoff triggers the CalWARN requirements, the traditional notice and timing requirements have been temporarily modified since the COVID-19 pandemic began.
Finally, an employer has different responsibilities when recalling or rehiring employees after either a furlough or layoff. If the employee was furloughed with the understanding that the employee remained employed during that time, employers won't need to initiate the new hire process. But, businesses will need a legitimate business reason for choosing not to recall a furloughed employee. If the employee was laid off with the understanding that the employment relationship ended, the employer will need to go through the new hire process with that employee.
Because of the rollercoaster nature of the California's reopening protocols, it's important that employers keep in close contact with their legal counsel to make sure they're appropriately handling their workforce and other employment issues arising from COVID-19.
Matthew J. Roberts, Employment Law Counsel/Subject Matter Expert
CalChamber members can read more in HRCalifornia Extra's Legalities of Rehiring Employees After COVID-19 Layoffs. Not a member? See how CalChamber can help you.