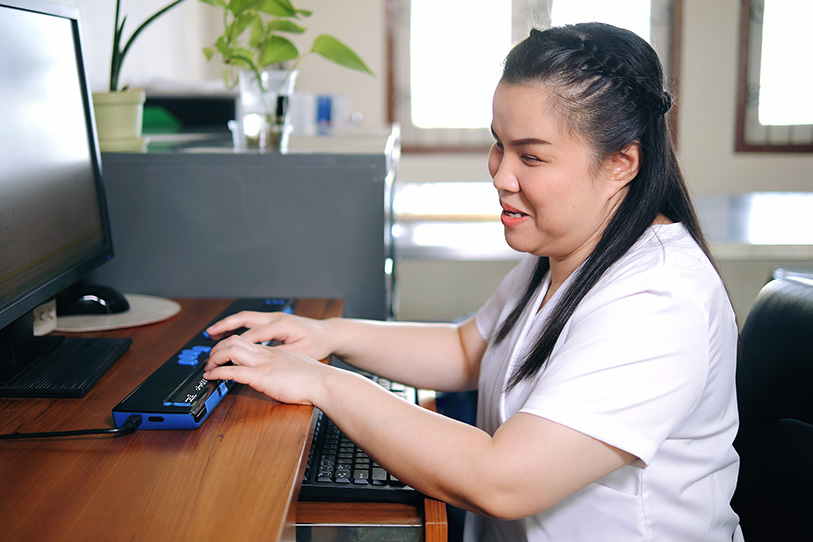 Vision impairments can start or occur at any time in life due to a variety of different factors. In 2022, for instance, approximately 18 percent of U.S. adults had difficulty seeing, even when wearing glasses or contact lenses, according to the U.S. Centers for Disease Control and Prevention (CDC), while the U.S. Census Bureau reports that more than 8 million people of all ages (2.5 percent of the population) have difficulty seeing, even when wearing glasses.
However, stereotypical and generalized negative assumptions about workers with visual disabilities — like they may cause safety hazards, lead to increase employment costs or have difficulty performing certain job duties — exist. And these assumptions could lead to these individuals being denied work opportunities even though they can successfully and safely perform their jobs, with or without reasonable accommodation.
It's important to note that under the Americans with Disabilities Act (ADA), individuals with disabilities include those who have "a physical or mental impairment that substantially limits one or more major life activities" — therefore not everyone who wears glasses or contact lenses is considered to have a disability, and people with vision impairments still need to meet certain criteria to be considered disabled.
To explain how the ADA applies to job applicants and employees with visual disabilities, the U.S. Equal Employment Opportunity Commission (EEOC) released an updated technical assistance document — "Visual Disabilities in the Workplace and the Americans with Disabilities Act" (previously titled "Blindness and Vision Impairments in the Workplace and the ADA") — which covers the following topics for employers:
When they may ask an applicant or employee questions about vision impairment and how to treat voluntary disclosures;
The types of reasonable accommodations applicants or employees with visual disabilities may need;
How to handle any safety concerns; and
How an employers can ensure that no employee is harassed because of a visual disability.
For example, an employer may only exclude an applicant with vision impairment from a job for safety reasons when the applicant poses a "direct threat" — which is "a significant risk of substantial harm to the health or safety of the individual or others that cannot be eliminated or reduced through reasonable accommodation." First, the employer should conduct an individualized assessment of a person's ability to safely perform the essential functions of their job — evaluating the duration of the risk as well as the nature, severity, likelihood and imminence of potential harm. Then, the employer must determine whether any reasonable accommodation would reduce or eliminate the risk.
The EEOC provides three reasonable accommodation examples, including one about a blind sous-chef with 15 years of experience who may take slightly more time to learn the layout of the kitchen, but once he does, "he is able to move about easily and safely. The combination of his experience, his use of touch to perform some tasks that other workers perform visually, and a few accommodations, such as braille labels on oven controls, enables him to use the kitchen equipment and to supervise kitchen staff." An employer cannot refuse to hire this chef on the grounds that he cannot work safely in a busy kitchen.
The EEOC also provides many examples of reasonable accommodations commonly requested by applicants and employees with visual disabilities, many of which are free or low-cost, including:
Assistive or accessible technology or materials, including: screen readers (or text-to-speech software); and systems with audible, tactile or vibrating feedback, such as proximity detectors, which can alert individuals if they are too close to an object or another person.
Modifying employer policies, procedures, testing or training, including: dress code modifications (e.g., allowed sunglasses/hats); modifying work schedules (e.g., for public transit); modifying an employment test (e.g., providing the test in a more accessible format); and workplace etiquette modifications (e.g., requesting each speaker say their name and provide a brief description of themselves at a meeting).
Work area adjustments, including: a workspace with brighter or lower lights, and audible and tactile signs and warning surfaces.
Sighted assistance or services, including: noise-cancelling headset or other telephone headsets to allow an employee to listen to screen-reading software and complete assignments without noise interference; braille labeler and labels to read product labels; and sighted, virtual assistance using screen-sharing technology.
Other modifications, including providing necessary documentation in larger print and other adjustments to help an applicant or employee with visual disabilities enjoy equal employment opportunities.
This EEOC guidance is only meant to provide clarity regarding existing requirements under the law.
Katie Culliton, Editor, CalChamber
CalChamber members can read more about Reasonable Accommodation of Disabilities in the HR Library. Not a member? Learn about the benefits of membership.