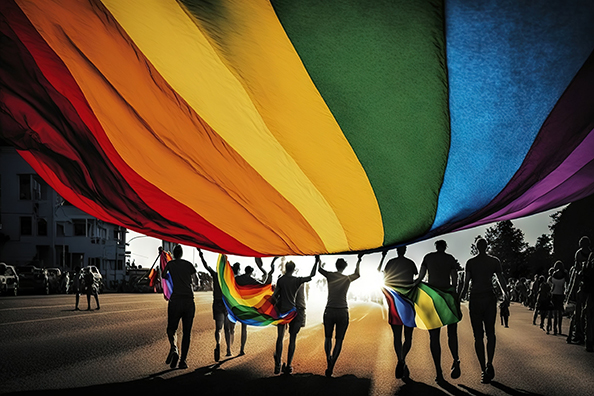 For five decades now, the nation has celebrated individuals who identify as LGBTQIA+ — an acronym that has evolved over the years to stand for Lesbian, Gay, Bisexual, Transgender, Queer/Questioning, Intersex, Asexual and all "gender identities and sexual orientations that letters and words cannot yet fully describe" — in June. Pride
And this June is no different: On May 31, 2023, President Joe Biden proclaimed June as Pride Month for the nation, and on June 1, 2023, Governor Gavin Newsom made the same proclamation for the state of California.
Pride Month is the perfect time for employers to either commit or recommit themselves to being a welcoming workplace for all employees by focusing on diversity, equity and inclusion (DEI) efforts. Here are some ways to do just that, per a Workplace podcast on the topic:
If companies haven't already, they should consider developing a true mission or vision statement on their commitment to DEI.
This vision/mission statement should be carefully crafted to outline what the organization aspires to be in all things DEI.
Before going public with this statement, the organization should get different voices in the room as part of the discussion process.
Make sure company leadership actively communicates their support for DEI efforts in all the organization does.
Organization leaders should think about how the organization demographically represents the communities they serve.
Companies that want to move forward with a DEI initiative should find someone internally or externally who can help guide the process.
Provide training to help people understand how best to attain DEI.
As a reminder, employers cannot discriminate against applicants or employees based on a protected class, which includes but is not limited to, sexual orientation, gender identity, gender expression, or because an individual is transgender, is transitioning or has transitioned.
Though California and the nation officially recognize LGBTQIA+ pride and equality during the month of June, helping LGBTQIA+ employees feel encouraged to always show up at work as their authentic selves is something employers may want to consider. Employers may celebrate Pride Month by committing to creating an inclusive and supportive environment for all employees all year. To do this, consider embracing and fostering DEI, which ultimately is a win-win — organizations that embrace DEI are 36 percent more likely to outperform organizations that do not, according to a McKinsey & Company study.   
Jessica Mulholland, Managing Editor, CalChamber
Learn more about CalChamber's Foundations of Diversity, Equity & Inclusion course, participants of which become more self-aware as they learn to identify behaviors that ensure a welcoming workspace. CalChamber Preferred Members and above receive a 20 percent discount. Not a member? Learn how to power your business with a CalChamber membership.