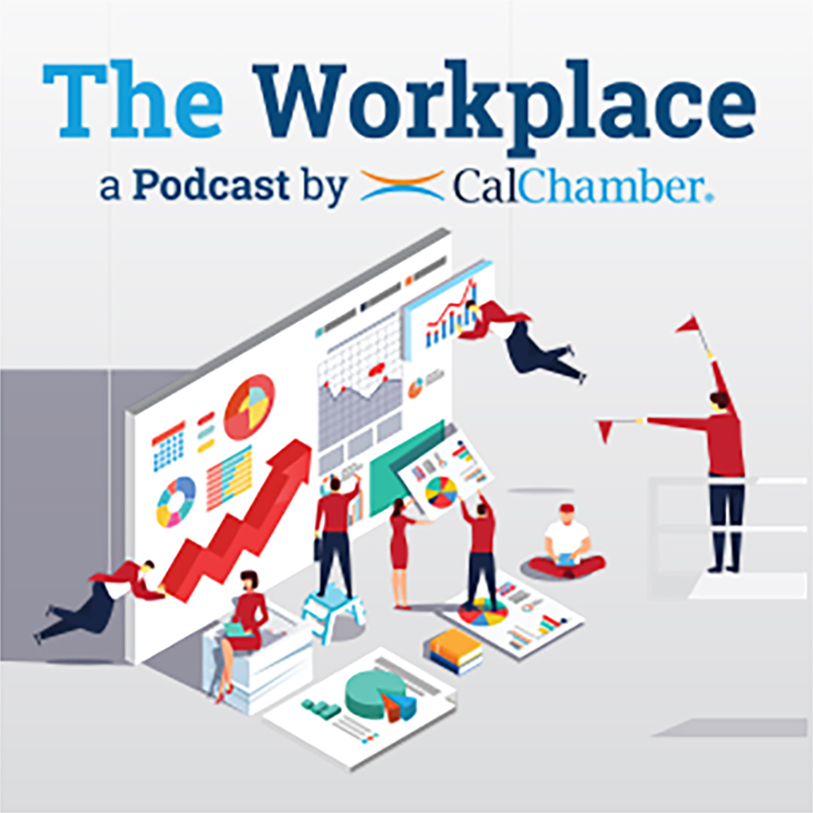 In this episode of The Workplace podcast, CalChamber employment law expert Matthew Roberts and CalChamber policy advocates Ashley Hoffman and Robert Moutrie give a legislative update on four important proposals that will affect California businesses: SB 1162 (Limón; D-Goleta), AB 2188 (Quirk; D-Hayward), SB 1044 (Durazo; D-Los Angeles) and SB 1149 (Leyva; D-Chino).
Each California legislative session begins in January and ends with a governor's deadline to sign bills passed by both houses of the legislature. We are in the last month that any legislation may be presented to the governor for signature, Roberts says in kicking off the podcast.
Now is a good time to circle back on key legislative proposals that are still moving forward but may have substantially changed since they were introduced at the start of the year, he says.
SB 1162
SB1162 is a proposal that has been discussed a couple of times before on The Workplace podcast. The bill started with three different parts, but these have now dwindled down to two, Hoffman explains.
The CalChamber is asking members to contact their state Assembly representative to oppose SB 1162. An easy-to-edit sample letter is available here. The first section makes changes to pay data reports from the California Department of Fair Employment and Housing (DFEH). Under SB 1162, these pay data reports would be published online, and employers with 100 or more employees would have to report the mean and median wage for each job category (out of 10 job categories), broken down by race and gender. The reports would also now need to include contractors.
The second section of SB 1162 is mirrored after similar Colorado, New York and Washington statutes that would require employers to put a salary range on every job posting. This section also states that if a current employee asks what the salary range is for their position, the employer must provide that information.
The CalChamber has designated SB 1162 a job killer bill, primarily because it requires that reports be published online. While the bill overall is well intentioned in trying to address a wage gap that exists, Hoffman says there's a big misunderstanding as to what these pay data reports actually show versus how the reports will be used.
The reports are a very broad way to look at a workforce.
"You are grouping together workers in very broad categories, as broad as 'professionals.' So, if you think of a hospital, that would encompass nurses, but it would also encompass someone who just graduated college and starting in your HR department, it's truly a broad category," she points out. "But we will be putting out there to the public what the average pay is, broken down by race and gender in these different categories. And it's going to give off the impression that that means there's some sort of wrongful conduct going on when that's not true."
The U.S. Equal Employment Opportunity Commission (EEOC) has stated that pay data reports were never intended to actually compare similar workers. The reports also do not take into account any of the factors allowed by the California Equal Pay Act or antidiscrimination statutes. The CalChamber's concern, Hoffman says, is that this data is going to be held out in the media, in the legislature or in court by plaintiff's attorneys as proof of wrongful conduct when in fact there is none.
AB 2188
AB 2188 has seen some substantial changes over the course of the year. When it was introduced in January, the bill would have effectively prohibited all employers from using pre-employment drug testing for marijuana and would have potentially created conflict with federal law for those employers who are compelled to do federal drug testing related to marijuana, Moutrie explains. The bill also changed the type of testing that could be used, moving away from hair and urine tests.
The CalChamber labeled SB 2188 a job killer bill and fought hard against these problematic aspects and was ultimately successful in getting some amendments.
When it comes to drug testing, employers can conduct a drug test for marijuana on three occasions: pre-hire testing, reasonable suspicion-based testing and for certain sensitive positions. These tests, Moutrie says, are usually conducted with a hair or urine test that would show usage of marijuana, potentially going back months.
SB 2188's proponents were concerned that this data shows marijuana usage while done far away from the workplace, such as on a weekend or vacation. After negotiations, the bill will no longer prohibit pre-employment drug testing and will no longer create federal conflict issues. Under the current bill language, starting January 1, 2024, employers will have to use saliva testing, which has a shorter window of detection and will show relatively recent usage (about 24 to 48 hours).
Moreover, Moutrie explains that employers will still be able to do testing and at the same times they normally would have done it. The delayed start date for the bill will allow time for the availability of saliva tests to catch up to the expected demand.
These changes eased most of the CalChamber's concerns, so the job killer tag has been removed, but the CalChamber still remains opposed to the bill overall.
A remaining concern is that the bill creates a new protected class under the California Fair Employment and Housing Act (FEHA) whereby someone who engages in off-site, off-duty medical marijuana use becomes a protected class. This of course brings potential litigation risks for employers, Roberts says.
SB 1044
Another bill that has gone through several revisions is SB 1044. In fact, Hoffman says, we can expect more amendments to be made to the bill when it goes before the Appropriations Committee due to some concerns being expressed by members of the Assembly.
Presently, the bill states that employers cannot retaliate against a worker who leaves work or does not show up, either because there is a declared state of emergency or an emergency condition, she explains. Once the immediate threat is over, the worker would be required to return to work.
The CalChamber was successful in securing exemptions to SB 1044. For example, health care workers in hospitals, private firefighters and other important emergency personnel will now be exempt from the bill. The bill remains a job killer, however, because the CalChamber is concerned with the bill's wording and the fact that it may undermine existing health and safety regulations issued by the California Division of Occupational Safety and Health (Cal/OSHA).
SB 1149
SB 1149 is a bill that has not yet been discussed on The Workplace podcast, but the proposal contains a significant litigation component, Roberts says.
The bill restricts what lawsuit documents can be made confidential. SB 1149 would essentially outlaw protective orders and make it very hard for companies in litigation to protect trade secrets or confidential information, Moutrie explains. Under this proposal, it would be very hard to get a normal protective order in about 95% of cases.
The CalChamber is opposing this bill because it creates substantial concerns for businesses. Companies often deal with information that should not be shared publicly, such as customer lists, pieces of code, formulas or patents. This is information that may have to be exchanged in litigation and is viewable to both parties, but it's something that shouldn't necessarily be released publicly, Moutrie says.