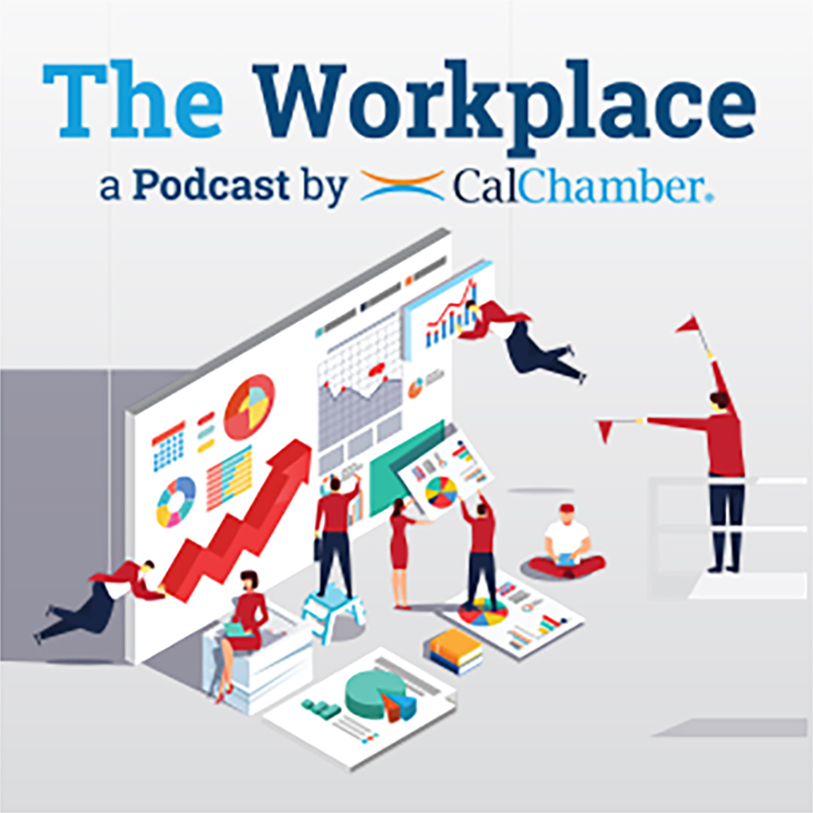 In this episode of The Workplace podcast, CalChamber employment law expert Matthew Roberts and CalChamber policy advocate Ashley Hoffman discuss AB 2932 (Low; D-Campbell), a proposal that would impose overtime requirements after 32 hours, and AB 1761 (Voepel; R-Santee), a proposal that would allow for an worker-selected flexible work schedule.
Recent polling conducted by the CalChamber shows there's an overwhelming desire to allow for a mutual workplace flexibility agreement, Roberts says in kicking off the podcast. Polling shows that 88% of respondents support changing overtime rules to allow for individual alternative workweek schedules, a situation where a worker and an employer can come together and design a workweek that works for them.
Another 82% of respondents supported allowing employees to take their rest periods whenever they want, and 80% supported allowing employees to forgo meal periods if the employer chooses to allow them to go home earlier.
This, however, doesn't jive very well with California's rest and meal break rules, Roberts says. And unfortunately, California legislators are proposing a bill that will create more costs for employers.
4-Day Workweek Proposal
AB 2932 is a CalChamber job killer bill that will change the 40-hour overtime requirement to 32 hours, Hoffman explains. So, if an employer has a classic 9 to 5 employee, this bill would require the employer to pay overtime (for the entire day) if the employee works on Friday (the fifth day). On top of this, the bill contains a provision stating that the employer would have to keep the employee's compensation the same.
Many employment attorneys are interpreting this to mean that employers will have to pay employees at 32 hours the same amount that they would normally earn at 40 hours. So, for example, Hoffman says, if a worker makes $20 per hour, they make about $800 after 40 hours of work. Under AB 2932, this same worker would now be owed that $800 after 32 hours. What this means is that employers would have to increase the hourly rate.
Under this example, the worker's hourly rate increases to $25 per hour. And then if the employer needs the worker to come in a fifth day for overtime, that hourly rate becomes $37.50 per hour, which is an 87.5% increase.
Aside from the economic impacts of this proposal, AB 2932 puts employers in a really tough position of deciding whether to pay out the extra overtime or hire more workers to ensure no one is working more than 32 hours. Hoffman points out that many employers have reached out to express just how bad the labor shortage is right now. Many employers cannot get people to apply for a position, and even when someone has been hired, there are many stories of how about half of new hires don't even show up.
"It's a very difficult time to hire. And so, this alternative of having other people on staff to cover after 32 hours is just really not an option for a lot of people," Hoffman tells Roberts.
An economic analysis done by Encina Advisors, LLC showed that between 340,000 to 1 million jobs would be lost if this proposal were to become law.
The cost of goods and services would also increase. Child care costs, for example, would increase dramatically because staffing costs would rise, and the amount of slots a daycare center has available would decrease. And the increased cost of goods is really going to have a tremendous impact, affecting both employers and workers, she says.
Hoffman explains that in order for AB 2932 to continue moving through the Legislature, it must pass out of the Assembly fiscal committee by April 29.
The bill, however, was not voted on at Assembly Labor and Employment Committee hearing on Wednesday, so at this point, the bill will likely not come up for a vote and will miss the April 29 deadline.
Still, Roberts points out that when something is proposed in the Legislature and fails to pass, it doesn't mean that it won't come back up again in the future.
Flexible Workweek Proposal
One of the most inflexible parts of California's wage and hour laws is the actual creation of an alternative workweek, Roberts says. There is a provision that allows employers to create an alternative workweek schedule, as long as the schedule still remains 40 hours or shorter, but it requires a lot of bureaucratic processes. And it's not really designed to be a one off where you can do it with individual employees.
AB 1761 is a CalChamber-supported bill that would allow workers to decide one-on-one to have an alternative workweek schedule and to enter into such an agreement with their employer instead of having to go through the typical process that requires the entire work unit to also be on board with the alternative workweek.
Hoffman says she's heard from many employers who wish they could implement this. Many employers have workers who, because of child care and other responsibilities, want to enter into alternative workweek agreements. Unfortunately, the bill faces opposition from certain groups, and a similar bill last year didn't even get set for a hearing.
CalChamber members can read more about Alternative Workweek Scheduling in the HR Library. Not a member? See how CalChamber can help you.