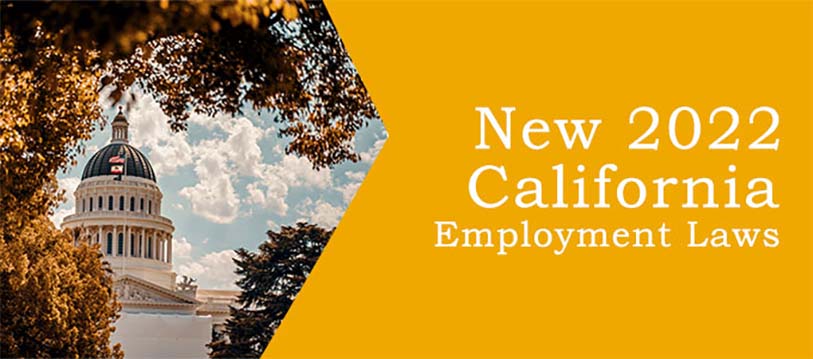 Despite the COVID-19 pandemic continuing to be a primary focus in 2021, the California Legislature crafted and sent several hundred bills to Gov. Gavin Newsom's desk. As 2021 winds to a close, what better way to prepare for 2022 than by familiarizing yourself with employment law changes happening when January hits?
For instance, a new law builds on 2020's changes to the California Family Rights Act, clarifying that employees can take CFRA leave to care for parents-in-law with serious health conditions and expanding the provisions of the CFRA small employer mediation program.
Then there's the expansion of the California Division of Occupational Safety and Health's (Cal/OSHA's) enforcement authority through two new violation categories for which Cal/OSHA can issue citations
Another one to keep in mind is SB 331, which further restricts the use of non-disclosure provisions in settlement agreements.
Prompted by the "Me Too" movement, in 2019, California passed laws that restricted the use of such provisions for claims involving allegations of sexual harassment, sexual assault or discrimination based on sex — but SB 331 significantly expands those restrictions. Beginning Jan. 1, 2022, non-disclosure provisions are prohibited in cases of alleged workplace harassment or discrimination based on any characteristic protected under the California Fair Employment and Housing Act, not just those based on sex.
This white paper also discusses how SB 331 limits the use of non-disclosure provisions in employment severance agreements, as well as:
Small adjustments to the state's worker classification laws;
COVID-19-related legislation that went into effect immediately upon being signed; and
Much more.
The New 2022 California Employment Laws white paper is now available for nonmembers to download. CalChamber members can access the white paper here.
Need more preparation for these new laws? Register now for CalChamber's virtual seminar 2022 Employment Law Updates. From your desktop or favorite device, engage with our California employment law experts as they present live from our studio and answer your questions submitted via Zoom.
At CalChamber, we're all about helping California businesses do business. We provide expert guidance and advocacy for California employers so businesses like yours can comply with frequently changing labor laws and thrive in a heavily regulated environment. Not a member yet? See how CalChamber can help you.