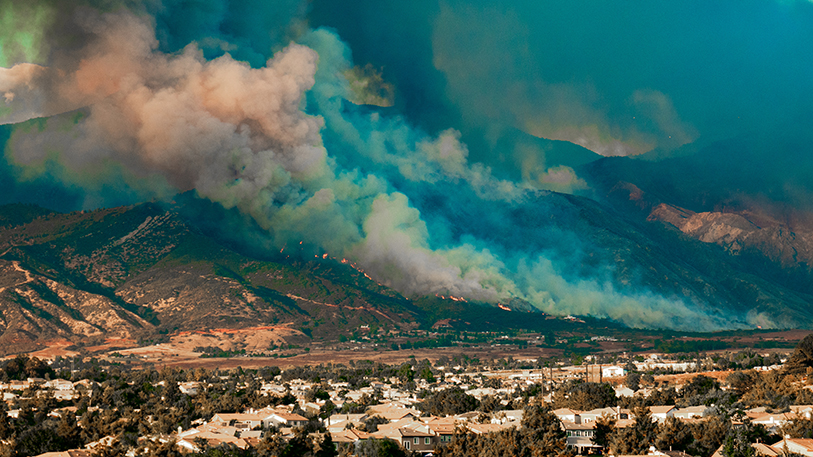 We're in the midst of California's 2021 wildfire season, and given the state's currently hot and dry climate, the California Department of Forestry and Fire Protection (Cal Fire) predicts an increased fire danger during the season. Cal Fire also reports that it has already responded to nearly 5,000 incidents this year, some of which are still ongoing, prompting Governor Gavin Newsom to issue an emergency proclamation related to fires in Siskiyou, Lassen and Plumas counties.
As the state deals with these challenges, it's important for employers to remember that they must protect workers from wildfire smoke exposure — and do so in compliance with the specific requirements of the California Division of Occupational Safety and Health (Cal/OSHA) wildfire smoke standard.
When wildfire smoke affects a worksite, employers must check the air quality index (AQI) for PM2.5. Employers can check current and forecasted AQI using such websites as the U.S. EPA AirNow website, the Interagency Wildland Fire Air Quality Response Program website or the California Air Resources Board website, to name a few.
If the AQI for PM2.5 is 151 or greater, employers must take the following steps to protect employees:
Communication — Communicate with employees about the smoke in the air, adverse effects, the AQI level and the protective measures available.
Training and Instruction — Provide training and instruction to employees on the information contained in Appendix B of the regulation (e.g., the effects of smoke, how to obtain AQI information, smoke protection methods, respirator use, etc.).
Modifications — If feasible, modify the workplace to reduce exposure, such as moving employees indoors where the air is filtered.
Changes — Change workplace procedures or schedules, such as the location where employees work or the amount of time they work outdoors or are exposed to unfiltered outdoor air.
Respiratory protection — Provide proper respiratory protection equipment, such as disposable N95 respirators, for voluntary use. 
To assist employers with identifying available supplies of respirators, Cal/OSHA is maintaining a list of vendors who have confirmed they have at least 100,000 National Institute for Occupational Safety and Health-certified disposable N95 respirators in stock and available for purchase and delivery.
If the AQI for PM2.5 exceeds 500 due to wildfire smoke, respirator use is required.
Employers should also visit Cal/OSHA's Worker Safety and Health in Wildfire Regions website for additional information and resources.
James W. Ward, J.D., Employment Law Subject Matter Expert/Legal Writer and Editor, CalChamber
For more detailed information on Cal/OSHA's wildfire smoke standard, download our Employer Requirements Under California's Emergency Wildfire Smoke Regulation white paper. Members may download the white paper here. Not a member? See how CalChamber can help you.