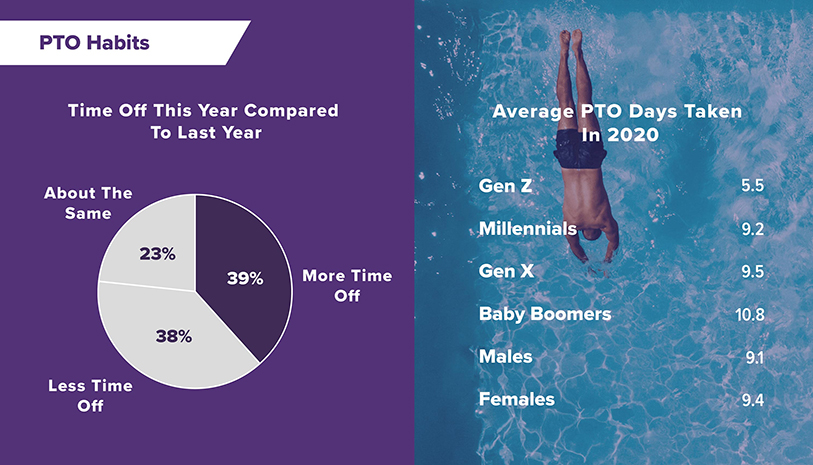 As the COVID-19 pandemic continues into 2021, the importance of paid time off (PTO) for employees remains — despite some mixed feelings about actually using that PTO.
The pandemic has changed how both employees and employers feel about benefits, according to benefits and absence management firm The Hartford, whose Future of Benefits Study polled U.S. workers and human resources benefit decision-makers in early March 2020 just before the COVID-19 outbreak in the U.S., and again in mid-June.
The Hartford found that employers' interest in offering PTO increased from part one to part two of its study: Pre-pandemic, 31 percent of employers who don't currently offer PTO expressed interest in offering it to their employees in the future, and that number jumped to 52 percent after the pandemic had settled in.
"The pandemic has put pressure on the American workforce in ways few could have predicted," said Jonathan Bennett, head of Group Benefits at The Hartford in a press release. "Employees need support more than ever."
Although there was an increased interest in offering PTO, employees' use of PTO didn't overwhelming increase in 2020. According to a recent survey by Potawatomi Hotel, 61 percent of full-time working Americans took either the same or less time off in 2020 compared with 2019, while only 39 percent took more time off in 2020, and 47 percent have gone a full calendar year without taking PTO.
There are five primary reasons employees didn't take PTO in 2020, according the Potawatomi study:
Workload is too much.
No one to cover for me.
I look less committed taking PTO.
Don't want to travel during COVID-19.
Costs too much to travel.
In addition, 38 percent of respondents have been more hesitant to request PTO during the pandemic. But 40 percent of respondents said their employer added more PTO days since the pandemic began, which indicates that many employers realize the stress COVID-19 has caused for their employees. In fact, 50 percent of respondents said their employers have been more flexible in granting PTO requests, and 48 percent said employers have been more lenient in granting such requests to parents.
Jessica Mulholland, Managing Editor, CalChamber
Visit the CalChamber Coronavirus (COVID-19) webpage for more COVID-19-related federal, state and local resources, including CalChamber coverage. CalChamber members can read more about Paid Time Off (PTO) in the HR Library. Not a member? See how CalChamber can help you.