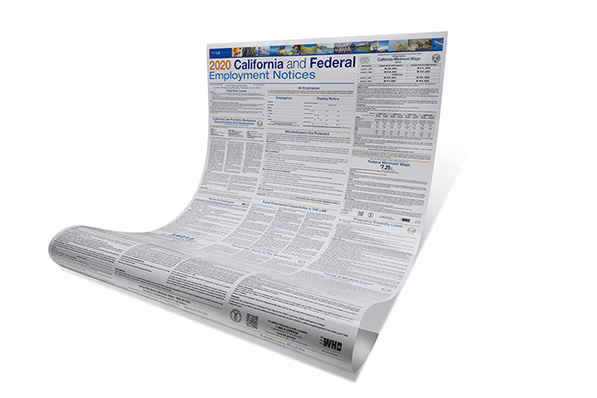 With Governor Newsom's stay-at-home order, California employers are allowing employees to work remotely just so business can continue.
During this time, employers should be mindful of the various notices required under federal, state or even local law. Your posting requirements must still be met, even in situations where an employee works remotely from home.
(Note: If you have employees who work 100 percent from home and never report to a headquarters or other location, you're required to mail hard copies of mandatory employment notices to the employees' homes, where they can be posted. Otherwise, if you have employees who do report to a physical location some of the time, ensure that the appropriate notices are posted and visible in that particular location.)
CalChamber is here to help during these challenging times, including ways to save money.
Now through April 30, 2020, we're offering 50 percent off CalChamber's all-in-one 2020 California and Federal Labor Law paper poster (Priority Code REW). This convenient poster communicates the 18 different state and federal employment notices every California employer must post in each workplace or job site — including where employees work remotely 100 percent of the time. You'll also receive a volume discount when you buy 10 or more of the same paper poster version in English or Spanish.
Each paper poster arrives folded to 7″ x 11.5″ and shrink-wrapped — ready to mail to your remote employees after filling in required information specific to your company.
Want CalChamber to mail paper posters directly to your remote employees? If you have more than 25 remote employees, simply call Customer Service at (800) 331-8877 to (1) make your purchase and (2) provide a list of your remote employees with their mailing addresses. As a friendly reminder, you'll need to send an email to those remote employees that contains specific company information they'll want to fill in on their posters.
Visit the CalChamber Coronavirus (COVID-19) webpage for COVID-19-related federal, state and local resources, including CalChamber coverage.