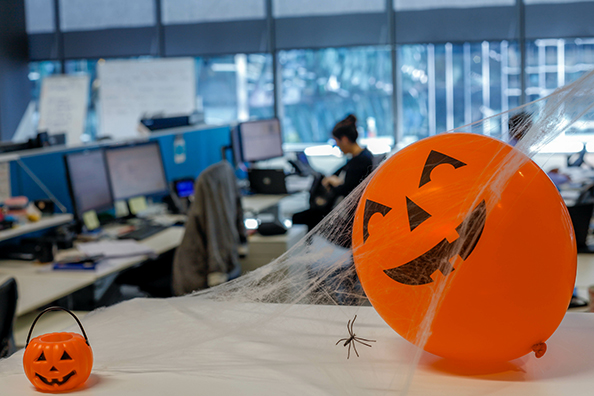 This year, Halloween falls on a Tuesday, and with a record number of people planning to participate in related festivities (73 percent, according to the National Retail Federation), employers can likely count on some employees bringing their spooktacular vibes to the workplace.
In fact, the National Retail Federation also reports that the top ways consumers are planning to celebrate are:
Handing out candy (68 percent).
Decorating their home or yard (53 percent).
Dressing in costume (50 percent).
Dressing up in a costume at work can be both entertaining and a workplace morale booster — but it can also be a source of concern. So, for those employers that let their employees get festive, here are two keys for Halloween success.
1. Employers should lay ground rules for costumes in the workplace, letting employees know what is and isn't appropriate.
For instance, remind workers that the company dress code still applies (i.e., the sexy version of any costume simply won't fly)! For instance, one of the top Halloween costumes for 2023, according to Google, is a bunny. It's not clear, however, what kind of bunny made the list— is it the Easter bunny? Maybe the Energizer bunny? Or could it be the (work inappropriate) Playboy version?
Furthermore, even costumes that do conform to a company's dress code policy can be offensive to other employees, such as costumes that are culturally insensitive (e.g., portraying someone of a different race, culture or ethnicity); political (e.g., the president or a creative interpretation of the president); or simply in poor taste (e.g., related to hate groups or tragic events).
Finally, employers also should remind employees to make sure their costumes follow any potential workplace safety guidelines, like wearing close-toed shoes, or avoiding loose clothing or full face masks that impair vision.
Be sure to let employees know these workplace costume guidelines in advance.
2. Under both Title VII of the Civil Rights Act of 1964 and California's Fair Employment and Housing Act, employers can't discriminate against an employee on the basis of religion, so enforce workplace decoration rules equally.
Although Halloween is considered a secular holiday nationwide, not everyone participates — and plenty of other cultural, spiritual and religious celebrations also occur during the fall season, such as Navaratri, Día de Los Muertos, Samhain and Diwali, to name a few.
And "religion" includes all aspects of religious belief, observance and practice, including religious dress and grooming practices. Like followers of more commonly known religions, pagans, wiccans and other alternative religions are entitled to legal protections in the workplace under federal and state law.
Employees who celebrate Halloween may decorate with pumpkins, ghosts, cobwebs and skulls, and those who celebrate Samhain may decorate in a similar fashion — with pumpkins and other fall vegetables. But some Samhain celebrants may also create headstones or grave rubbings, or display jars of sharp, rusty items buried in salt to ward off witches. And those who celebrate Dia de los Muertos may adorn their office or cubicle with sugar skulls and Muertos Papel Picado banners.
So, if employees are allowed to decorate their workspace with Halloween-related items, then an employee who celebrates Dia de los Muertos or Samhain should have the same right.
Overall, Halloween — and the fall season in general — is a fun and festive time of the year that can boost morale and encourage teamwork; the keys to success, however, are to communicate expectations in advance and make sure you're not discriminating against workers celebrating other religions around this time of year.
Jessica Mulholland, Managing Editor, CalChamber
CalChamber members can read more about Dress Standards and Religious Discrimination in the HR Library. Not a CalChamber member? Learn more about how HRCalifornia can help you.