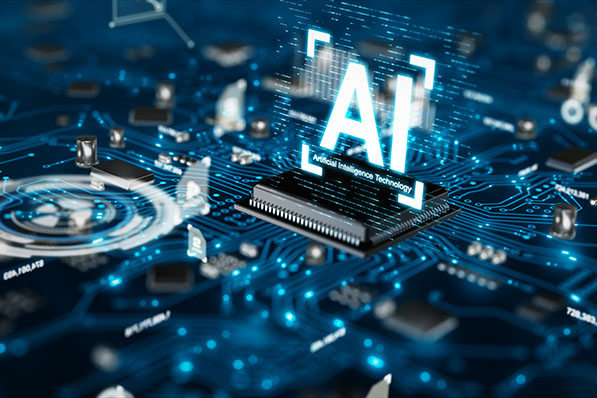 In this episode of The Workplace podcast, CalChamber Associate General Counsel Matthew Roberts, and Peter Bittner, award-winning multimedia journalist and artificial intelligence (AI) consultant, discuss the growing presence of AI in the workplace, exploring the various ways it is transforming business operations.
AI's Expansion in Workplace
Artificial intelligence is rapidly expanding in workplaces across the world, with a recent Salesforce global survey revealing that two-thirds of managers are considering or implementing generative AI in their organizations, Bittner says. It's a massive transformation that is reshaping business models across various industries.
Rather than being fearful of the technology, the Salesforce study also found that more workers are excited about the use of AI in the workplace and believe businesses should prioritize AI skill development.
Positive Impacts
AI has many potential uses in the workplace. The technology has the ability to automate repetitive tasks, minimize human error, and continuously adapt and improve.
A recent study by Boston Consulting Group, in collaboration with Harvard, University of Pennsylvania and Massachusetts Institute of Technology professors, found that workers who utilized AI completed tasks more efficiently, achieving a 12% increase in number of tasks completed, producing 40% higher quality results and accomplishing tasks 25% faster, Bittner says.
Downsides, Challenges of AI
Despite its potential benefits, AI does present certain downsides and challenges that businesses must address, Bittner says.
He points out there are concerns about job displacement, particularly in roles involving routine and repetitive tasks. The types of jobs most likely to be affected by this are administrative, call center roles, entry-level positions and software engineering, among others.
While AI can automate various functions, a human layer remains essential for quality control and applying judgment, Bittner stresses.
Another problem with AI right now is that it's not always reliable, and may still be wonky and unpredictable, he says. There are concerns surrounding security vulnerabilities as cyber hackers are also able to use AI.
Lastly, AI can reinforce societal biases, hurt diversity, equity and inclusion (DEI) efforts and can place businesses in legal jeopardy, Bittner says.
Legal, Compliance Considerations
Roberts agrees that AI can bring up legal and compliance business issues, stressing that "humans still need to be around AI."
The federal Equal Employment Opportunity Commission (EEOC), for example, executed a settlement against an employer for AI practices that ended up unlawfully screening out older workers.
Bittner adds that last month, Governor Gavin Newsom issued an executive order that requires most major state agencies to review the potential threats and opportunities AI presents, and issue best practices. Nationally, President Joseph Biden held an AI Summit, and it remains to be seen what will be coming down the pipeline.
At the moment, employers should look at the California Consumer Privacy Act. Biometric data is critically important and is a pitfall of AI-powered customer screening and hiring tools, Bittner says.
A recent Illinois lawsuit deals with informed consent during the hiring process. It involves a video interview tool that uses sophisticated machine learning algorithms to analyze body language, intonation and eye movement to assess the confidence and capabilities of potential employees.
"It's definitely a very shaky territory right now," he says. "There's a lot of evidence that shows that these types of AI systems reinforce bias and discrimination in screening processes…These are hot legal potatoes to juggle."
Privacy Concerns, Liability
There also are privacy concerns related to AI's collection and manipulation of data.
Bittner says that AI enables data analysis on an unimaginable scale. AI has the ability to manipulate, analyze, slice and dice, share, integrate and synthesize datasets to help locate potential employees, produce sales leads and create proprietary data. But this does open up questions about sharing data with third party systems or outside entities. Who owns the data? Whose servers is this data on?
"These are some questions that are more important than ever now. And in 2023, it pays to read the fine print, and ask very critical questions of vendors and to dig into the nitty gritty," he tells Roberts.
Takeaways
In closing the podcast, Bittner offers several key takeaways for business owners and executives. He urges employers to:
Stay informed and learn about AI tools relevant to your industry and operations.
Involve stakeholders, including employees, in the decision-making process.
Be cautious but not overly fearful of AI's potential.
Align AI initiatives with your company's mission and values.
Consider ongoing training to maximize the benefits of AI.
Be transparent with customers.
Bittner also stresses that businesses should seek legal counsel to navigate the evolving legal and compliance environment. As soon as state and national laws are released, it will be critical to get legal advice as soon as possible.
CalChamber members will be able to read more in an upcoming HRCalifornia Extra article titled, Should AI Recruit and Hire Your Next Employee? Make sure you're subscribed! Not a member? Learn how to power your business with a CalChamber membership.