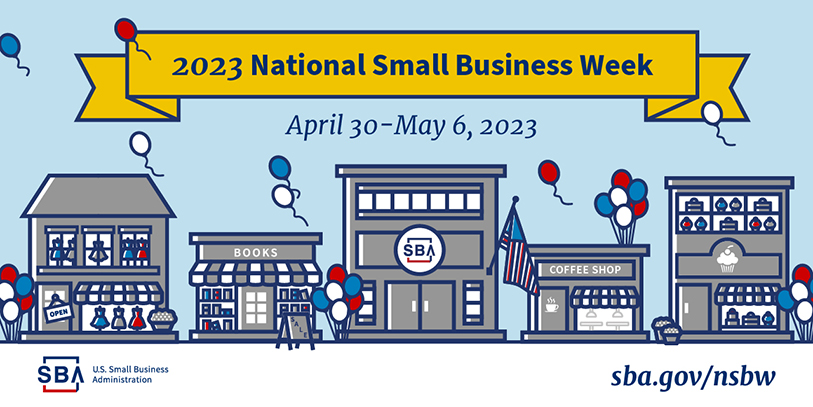 This Sunday, April 30, is the start of National Small Business Week: An annual event that recognizes the hard work, ingenuity and dedication of America's small businesses, and celebrates their contributions to the economy.
"National Small Business Week celebrates the resilience, innovation and economic power of America's small businesses and innovative startups," said U.S. Small Business Administration (SBA) Administrator Isabella Casillas Guzman in a press release. "Amidst a record-breaking 10.5 million people applying to start a new business under the Biden-Harris Administration, I'm thrilled to showcase our highly impactful entrepreneurs who build prosperity in their communities while strengthening our nation's global competitiveness."
Small businesses employ nearly half of all Americans in the private sector — and in California, 4.1 million small businesses (with fewer than 500 employees) represent 99.8 percent of all businesses in the state and employ 7.2 million people, or 48.5 percent of the private workforce. Also in California,
Businesses with fewer than 100 employees represent 97 percent of all businesses and employ nearly 36 percent of all workers; and
Businesses with fewer than 20 employees comprise more than 88 percent of all businesses, employing approximately 18.2 percent of all workers.
CalChamber members include 14,000 firms of all kinds and sizes — and more than two-thirds of members are small employers with 100 or fewer employees. While there is no sector of the California economy where small businesses are not present, the industry most dominated by small businesses is construction, in which small businesses account for 84 percent of the sector, employing more than 500,000 employees.
During Small Business Week, which is co-hosted by the SBA and small business mentor SCORE (originally known as the Service Corps. of Retired Executives), small businesses can attend a two-day virtual summit. Held Tuesday, May 2, and Wednesday, May 3, the summit is free to attend for both established and aspiring business owners. The event includes presentations by expert speakers on such topics as:
Simple Steps to Write and Follow a Sustainable Business Plan that Ensures You Achieve Your Goals;
Getting Creative with Ads;
Cybersecurity & Your Small Business;
Future-Proofing Your Small Business for Long-Term Success;
Tapping Tech to Elevate Performance, Productivity, and Profitability; and
More.
The summit also features an exhibit hall, networking opportunities and a mentoring lounge where business owners can ask questions and get expert answers.
California small businesses are encouraged to participate, as they play a vital role in the state and national economies. Register here.
Jessica Mulholland, Managing Editor, CalChamber
CalChamber members can read more about the "PFL Grant Program" for small businesses in Paid Family Leave Defined in the HR Library. Not a member? Learn how to power your business with a CalChamber membership.