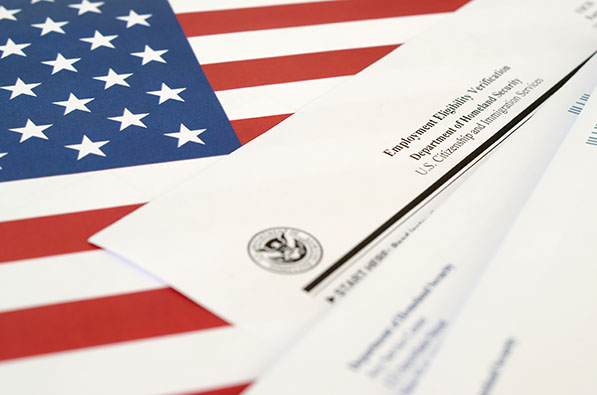 When COVID-19 hit in early 2020, so did a change in how employers could verify Form I-9 documents. While the Form I-9 remote document verification flexibility has, thus far, technically been temporary, there's now a chance that this flexibility for employers may become permanent.
Federal law requires employers to use the Form I-9, Employment Eligibility Verification to verify employment eligibility and to physically examine each original Section 2 document the employee presented within three business days of the employee's first day of work for pay.
But in March 2020, when COVID hit and many businesses were subject to "stay-at-home orders," the U.S. Department of Homeland Security (DHS) announced that it was deferring the physical presence requirements for employers "taking physical proximity precautions due to COVID-19" and whose workforce was operating remotely.
The DHS initially detailed the new inspection provisions, and then extended the deferment several times throughout 2020 and 2021. The expiration date currently set for these accommodations is October 31, 2022.
But that's not the be-all, end-all.
On August 19, 2022, U.S. Immigration and Customs Enforcement (ICE) announced its notice of proposed rulemaking, in which it's seeking public comment on employment eligibility verification options.
Although the proposed rule doesn't create alternative options for documentation examination procedures, it would formalize authority for the DHS secretary "to extend flexibilities, provide alternative options, or conduct a pilot program to evaluate an alternative procedure option." Ultimately, according to the news release, ICE is proposing to create a framework under which the DHS secretary "could authorize alternative options for document examination procedures associated with the Form I-9."
The notice itself seeks public input "regarding making permanent some of the current COVID-19 pandemic-related flexibilities to examine employees' identity and employment authorization documents for the Form I-9."
Comments on this proposed rule are being accepted via the Federal eRulemaking Portal through October 17, 2022.
Jessica Mulholland, Managing Editor, CalChamber
CalChamber members can read more about the overall verification process in HR Library's Form I-9: Verifying Eligibility. Not a member? See how CalChamber can help you.