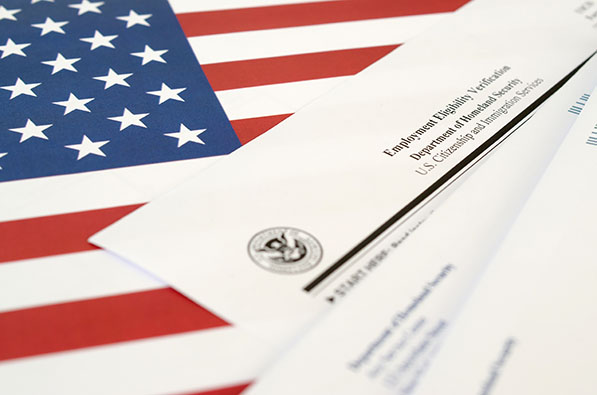 When hiring new employees, employers are required by federal law to use the Form I-9, Employment Eligibility Verification to verify employment eligibility — and to physically examine each original Section 2 document the employee presents "to determine if the document reasonably appears to be genuine and relates to the person presenting it" within three business days of the employee's first day of work for pay, according to U.S. Citizenship and Immigration Services (USCIS).
But, as previously reported, when the COVID-19 pandemic first hit the U.S. back in March 2020, the Department of Homeland Security (DHS) announced that it would make Form I-9 document inspection more flexible by deferring the physical presence requirements for employers with employees who were "taking physical proximity precautions due to COVID-19."
And now, after several extensions through December 31, 2021, the DHS has again deferred the physical presence requirement until April 30, 2022. Then, on May 1, 2022, they extended the Form I-9 flexibilities until October 31, 2022.
This means employers whose workforce is operating remotely may inspect the Section 2 identity and employment eligibility documentation remotely — via video link, fax or email, for example — within three business days of hire. The employer must retain copies of these documents.
Keep in mind that this provision applies only to employers and workplaces operating remotely — no exceptions are made for employees physically present at a work location.
Once normal business operations resume, employees whose documents underwent remote verification must report to their employer within three business days for official in-person document verification.
After employers physically inspect the documents, they should enter "COVID-19" in the Section 2 "Additional Information" field as the reason for the physical inspection delay. They also should state "documents physically examined" followed by the date of inspection in either Section 2 or section 3, as appropriate.
Employers that qualify for and opt to use this provision "must provide written documentation of their remote onboarding and telework policy for each employee," and for employees who initially undergo remote document verification, their subsequent Forms I-9 audits would be based on the "in-person completed date."
Employers should continue to monitor the DHS and Immigration and Customs Enforcement (ICE) websites for additional updates on the ongoing national emergency.
The current Form I-9, version 10/21/2019 (found on the bottom of the form), expires 10/31/2022, and is available for free on the CalChamber website.
Jessica Mulholland, Managing Editor, CalChamber
CalChamber members can read more about Verifying Employment Eligibility and Completing the Form I-9 in the HR Library. Not a member? See what CalChamber can do for you.