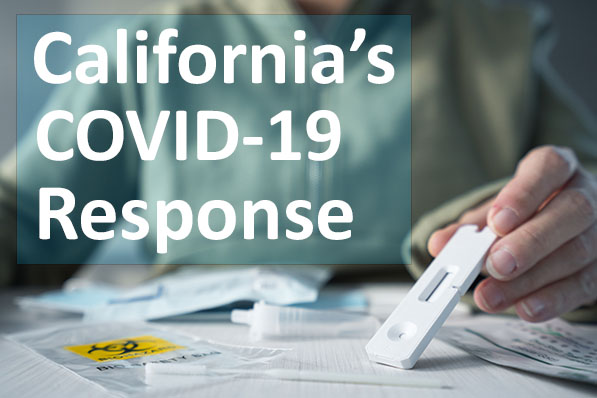 In a sign suggesting that California may be finally moving past the pandemic, Governor Gavin Newsom announced the release of the California SMARTER plan: The Next Phase of California's COVID-19 Response at a press conference yesterday. As the state recovers from the recent Omicron variant surge, the SMARTER plan marks a new phase of California's COVID-19 response, where we appear to be moving out of the pandemic phase and into an endemic phase. The Governor emphasized that this new phase moves us away from a crisis mentality, a reactive framework, to a framework that involves a more intentional, strategic and informed handling of the virus that build on the knowledge and experience gained over the course of the last two years,
According to the governor's office, "SMARTER" plan stands for:
Shots – Vaccines are the most powerful weapon against hospitalization and serious illness.
Masks – Properly worn masks with good filtration help slow the spread of COVID-19 or other respiratory viruses.
Awareness – We will continue to stay aware of how COVID-19 is spreading, evolving variants, communicate clearly how people should protect themselves, and coordinate our state and local government response.
Readiness – COVID-19 isn't going away and we need to be ready with the tools, resources and supplies we will need to quickly respond and keep public health and the health care system well prepared.
Testing – Getting the right type of tests — PCR or antigen — to where they are needed most. Testing will help California minimize the spread of COVID-19.
Education – California will continue to work to keep schools open and children safely in classrooms for in-person instruction.
Rx – Evolving and improving treatments will become increasingly available and critical as a tool to save lives.
While moving us into a new phase of addressing COVID-19, the SMARTER Plan also outlines specific steps to anticipate and prepare for the future unknowns. For example, the "S" for "Shots" is not only referencing an individual's ability to protect themselves by way of the vaccine but includes the state's capacity to administer "at least 200,000 vaccines per day" on top of existing pharmacy and provider infrastructure. Additionally, while the "M" for "Masks," represents the proper wearing of masks to help slow the spread, it also represents maintaining a "stockpile of 75 million high quality masks" and the capability to distribute personal protective equipment (PPE) distribution as needed.
Under the plan, the state will continue to quickly evaluate the data and best determine how to address future challenges that the virus may bring. You can read more about the SMARTER Plan in this PDF provided by the state.
Moving forward, CalChamber will continue to provide updates on issues that impact employers as we enter this new endemic stage of COVID-19 response.
Bianca N. Saad; Vice President, Labor and Employment – Content, Training and Advice; CalChamber
CalChamber members can use the COVID-19 Prevention Program Checklist and COVID-19 Workplace Exposure Notification Checklists in the HR Library. Not a member? See how CalChamber can help you.