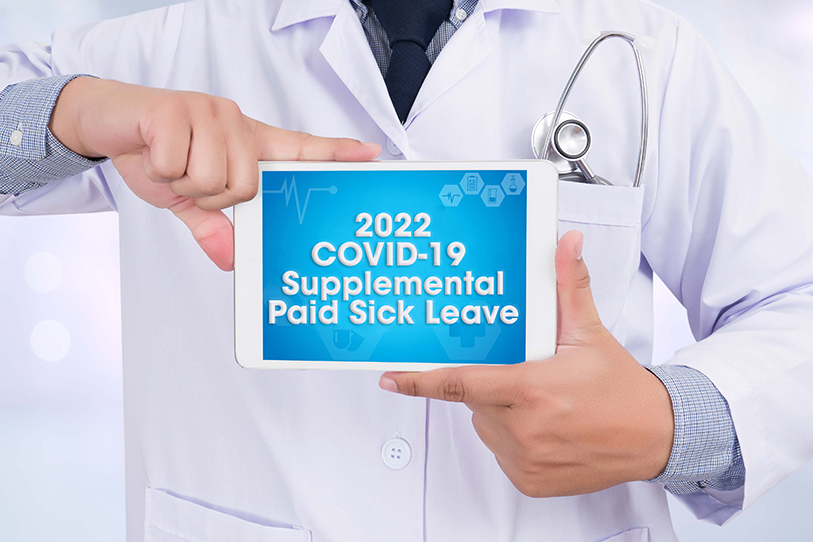 Following closely on the heels of releasing its COVID-19 Supplemental Paid Sick Leave (SPSL) poster, the California Labor Commissioner published new guidance, a series of FAQs, for the new 2022 COVID-19 SPSL – and it's just in time since the law takes effect tomorrow, February 19, 2022.
As previously reported, the new law requires private employers with 26 or more employees to provide up to 80 hours of COVID-19 SPSL for COVID-19-related qualifying reasons. It's retroactive to January 1, 2022, and sunsets on September 30, 2022.
Unlike last year's SPSL, the 2022 SPSL is split into two banks, up to 40 hours for each bank. The first bank is available to covered employees who are unable to work or telework due to specific COVID-19-related reasons. The second bank of COVID-19 SPSL, up to 40 hours, is available only if an employee or a family member for whom they are providing care tested positive for COVID-19.
The new COVID-19 SPSL FAQs address several issues under the new law, including:
SPSL coverage.
Reasons for taking leave.
Requesting leave from an employer, including retroactive pay.
Calculating employee's hours of leave.
Leave documentation.
Credits.
Payment of leave, paystubs and recordkeeping.
Enforcement.
Interaction with other laws.
The new FAQs clarify some of the uncertainty of the law. For example, the FAQs confirm that the two SPSL banks of leave operate independently of each other. In other words, employees do not have to exhaust the first to access the second. The FAQs provide the following hypothetical to illustrate: "a full-time covered employee can use 10 hours from the first bank to receive a COVID-19 vaccine booster shot and recover from symptoms, 40 hours from the second bank to care for a family member that tested positive for COVID-19, and then 30 hours from the first bank to care for a child whose daycare had closed due to COVID-19 on the premises."
Regarding documentation, the FAQs discuss the circumstances under which employees may request certain documentation. Generally, employers cannot require documentation before providing SPSL. Only in specific circumstances can employers request documentation. For example, the FAQs confirm that employers may request documentation of COVID-19 test results, for the employee or family member, before paying leave from the second SPSL bank. "In such circumstances, the employee must provide the test results upon the reasonable request of the employer. If the employee fails to provide the result of the test, then the employer may deny pay for any leave taken."
Additionally, for leave taken to recover from vaccine side effects, employers may limit such leave to 24 hours or three days for each vaccine/booster unless the employee provides a verification from a health care provider that more time is needed to recover from the side effects. The FAQs state that in this context, documentation would likely be a simple doctor's note indicating that the employee/family member continues to experience side effects.
The FAQs provide helpful guidance on a number of additional issues, including:
How retroactive payments work;
How employers get credit for providing leave under local ordinances or company policies;
How to calculate the correct amount of leave for employees, including part-time employees with variable schedules;
What's required on paystubs; and
Many other issues.
The Labor Commissioner was also careful to note where 2022 SPSL differs from 2021 SPSL. For example, under 2022 SPSL, employers cannot require employees to exhaust their SPSL leave before paying exclusion pay required by the Cal/OSHA ETS, which is different from last year's SPSL.
Employers should review the latest SPSL guidance and consult with their legal counsel with any specific questions about implementing COVID-19 SPSL in their workplace.
James W. Ward, Employment Law Subject Matter Expert/Legal Writer and Editor
CalChamber members and nonmembers can read more about COVID-19: Federal, State and Local Leave Issues in the HR Library. Like what you see? See how CalChamber can help you.