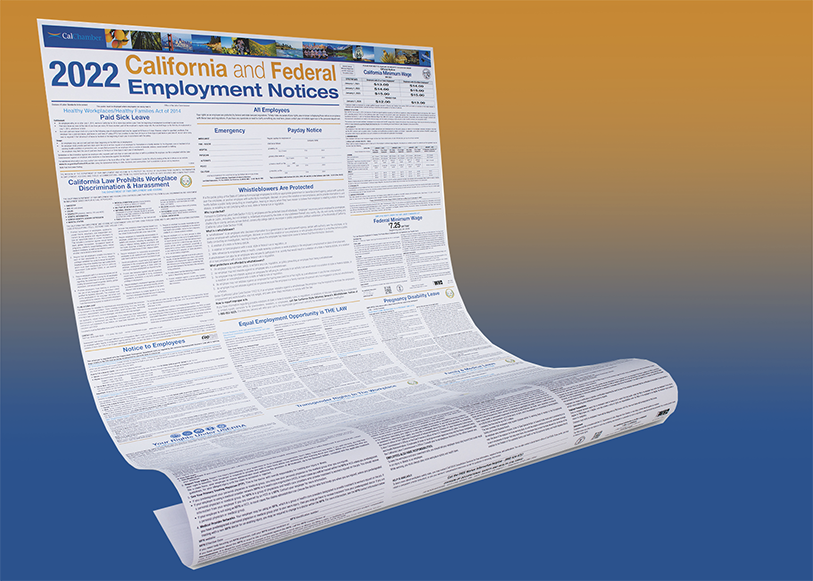 Whether it's planning for applicable state and local minimum wage increases and exempt employee salary increases; updating employee handbooks; or making sure employees complete their sexual harassment prevention training, there are several things employers must do to remain in compliance as we head into the new year — another of which is updating and displaying employment law posters.
In California, employers are required to post well more than a dozen separate posters from varied agencies such the U.S. Department of Labor, the California Department of Fair Employment and Housing, and the California Department of Industrial Relations. Further, many of these posters — such as minimum wage notices, anti-discrimination posters and leave rights posters — are updated annually.
For 2022, the following state notices will include mandatory updates that must be posted in your workplace:
California's Minimum Wage Notice: The state minimum wage will increase to $14 per hour for employers with 25 or fewer employees and to $15 per hour for employers with 26 or more employees.
California Employment Development Department's (EDD's) Notice to Employees: The EDD is simplifying its notice to better service employees.
Family Care and Medical Leave and Pregnancy Disability Leave Notice: Employees can take family and medical leave to care for a parent-in-law with a serious health condition.
Employers must ensure they post the most updated postings at their worksites.
With increased cases of the Omicron variant, many employers may return to a hybrid or even fully remote work model. And while keeping up with the latest workplace safety rules around COVID-19 is a monumental task in itself, it's also important to remember that even when some or all of your employees are working remotely, your notice and posting obligations don't change.
As a reminder, although Senate Bill 657 (SB 657) — which takes effect on January 1, 2022 — may allow for the electronic distribution of required California notices via email, it doesn't change a California employer's obligation to physically display posters in the workplace. For remote workers, the physical posting requirement may apply to the employee's home. If you choose to distribute notices electronically, must instruct your employees to physically post the notices.
Visit the CalChamber Store for all your workplace poster needs and stay compliant.