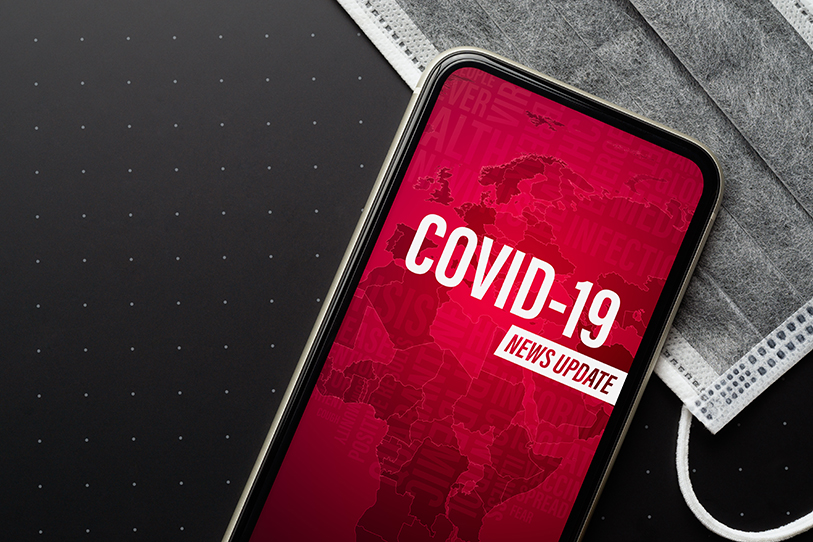 On December 27, 2021, just days after updating its infection and exposure guidance for health care workers on December 23, the Centers for Disease Control and Prevention (CDC) announced that it has shortened its recommended isolation and quarantine periods for the general population — but employers must still follow the California Division of Occupational Safety and Health (Cal/OSHA) Emergency Temporary Standards (ETS).
Updated CDC Guidelines
For asymptomatic individuals who test positive for COVID-19 — whether they're vaccinated or unvaccinated — the CDC's newly recommended isolation period is decreased from 10 days to five days, followed by five days of wearing a mask when around others.
"[P]eople who test positive should isolate for [five] days and, if asymptomatic at that time, they may leave isolation if they can continue to mask for [five] days to minimize the risk of infecting others."
For those exposed to COVID-19, the CDC's quarantine period recommendation depends on an individual's vaccination status:
For unvaccinated individuals — or those who are more than six months out from their second mRNA dose (or more than two months after the J&J vaccine) and not yet boosted — the CDC now recommends five days' quarantine followed by strict mask use for an additional five days. Alternatively, if a five-day quarantine isn't feasible, the CDC states it's imperative that an exposed person wear a well-fitting mask at all times when around others for 10 days after exposure.
Individuals who have received their booster shot don't need to quarantine after an exposure, but they should wear a mask for 10 days after the exposure.
The change, according to the CDC, is motivated by science demonstrating that the majority of SARS-CoV-2 transmission occurs early in the course of illness (generally in the one to two days prior to onset of symptoms and two to three days after).
The agency also indicates that a best practice for all individuals exposed is to test for SARS-CoV-2 at day five after exposure and, if symptoms occur, immediately quarantine until a negative test confirms symptoms aren't attributable to COVID-19.
Employers Are Still Subject to Cal/OSHA's ETS
So, what does all this mean for employers in California? At the time of publication, not a whole lot, as employers in California must follow Cal/OSHA's COVID-19 ETS, which impose a variety of requirements — including those regarding notices, testing and face coverings — to combat COVID-19 in the workplace. In addition to the ETS requirements, employers must also follow public health orders on COVID-19, such as those issued from the California Department of Public Health (CDPH) or local health department.
On December 13, 2021, for example, the CDPH announced its revision to the Guidance for Use of Face Coverings, which requires all individuals to wear face coverings in "indoor public settings" regardless of vaccination status — effective December 15, 2021, through January 15, 2022. Because the ETS requires that employers "provide face coverings and ensure they are worn by employees when required by orders" of the CDPH (8 CCR sec. 3205(c)(6)(B)), the updated face covering order applies to all workplaces (which is also confirmed on Cal/OSHA's FAQ page and CDPH's face covering Q&A guidance).
Exclusion From and Return to Work Criteria Under Current ETS
COVID-19 cases and close contacts must be excluded from the workplace. Under the current ETS, when a COVID-19 case may return to work depends on the circumstances:
For employees with symptoms, all of the following conditions must be met:

At least 24 hours have passed since a fever of 100.4 or higher has resolved without the use of fever-reducing medications;

COVID-19 symptoms have improved; and

At least 10 days have passed since COVID-19 symptoms first appeared.

For asymptomatic employees, at least 10 days must have passed since the COVID-19 case's first positive test.
Employers must also remember to determine which employees, if any, were a "close contact" — meaning they were within six feet of a COVID-19 case for a cumulative total of 15 minutes or greater in any 24-hour period within or overlapping the "high-risk exposure period," which is defined differently depending on circumstances:
For COVID-19 cases who develop COVID-19 symptoms, the high-risk exposure period is from two days before they first develop symptoms until 10 days after symptoms first appeared and 24 hours have passed with no fever (without the use of fever-reducing medications), and symptoms have improved.
For people who test positive but never develop COVID-19 symptoms, the high-risk exposure period is from two days before until 10 days after the specimen for their first positive test for COVID-19 was collected.
Employees who've had a COVID-19 close contact must be excluded from the workplace unless they were:
Fully vaccinated before the close contact occurred or recently recovered from COVID-19 in the last 90 days and remained symptom free; and
Don't show any COVID-19 symptoms after exposure.
Additionally, under the present COVID-19 ETS, a fully vaccinated employee who has a close contact at work doesn't need to be tested unless they exhibit symptoms after their exposure.
Employers should remember that if an employee is excluded from work because of a workplace COVID-19 exposure, they should receive exclusion pay if (1) the employee was not assigned to telework during that time, and (2) the employee didn't receive disability payments or Workers' Compensation temporary disability payments during the exclusion period.
Employers should also remember their notice and testing obligations, and additional actions to take in the event of an outbreak.
When employers are dealing with COVID-19 cases in the workplace, they should follow what's required of them in the Cal/OSHA ETS, keeping in mind that revisions adopted earlier this month (including minor revisions related to returning to work after close contact) will take effect on January 14, 2022.
What's Next?
Governor Gavin Newsom indicated in a recent tweet that California will align with the CDC's updated guidelines, but at the time of publication, no official updated CDPH guidance was released. Additionally, if and when CDPH guidance is updated, Cal/OSHA is to provide notice of any changes through its ETS page, per Executive Order N-84-20. Continued monitoring of state and local health department orders will remain critical as the Omicron variant continues to evolve. CalChamber will provide updates as they become available.
Bianca N. Saad; Vice President, Labor and Employment – Content, Training and Advice; CalChamber
Visit the CalChamber Coronavirus (COVID-19) webpage for more COVID-19-related federal, state and local resources, including CalChamber coverage.