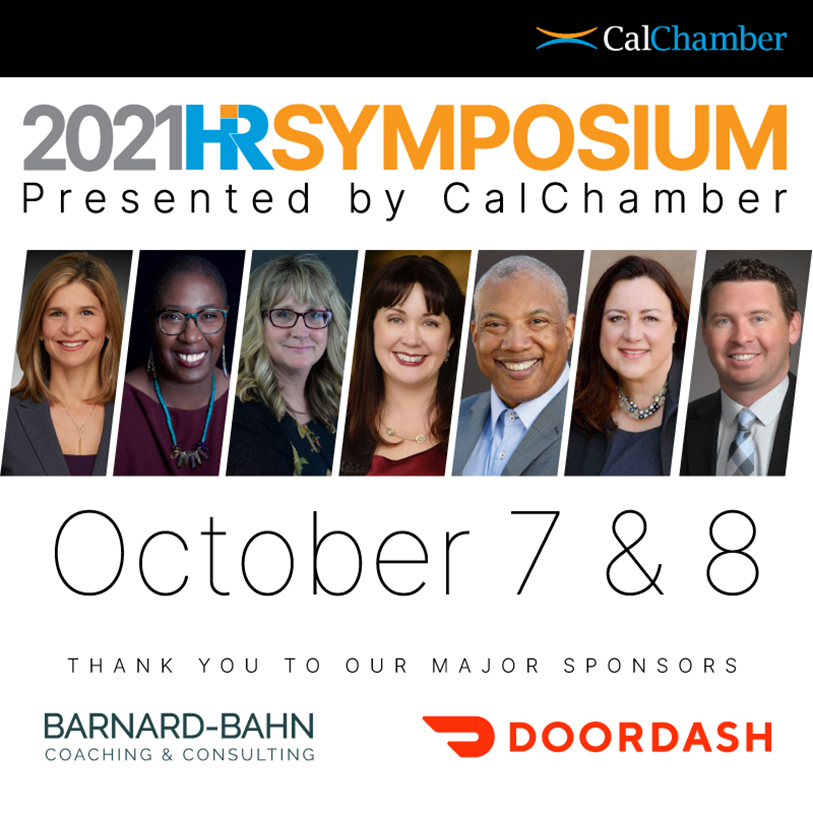 CalChamber's virtual 2021 HR Symposium will let you engage online with sought-after experts on relevant workplace issues. This year's symposium is on Thursday, October 7 and Friday, October 8 from 8:30 a.m. to 12:30 p.m. each day, plus participants will receive recordings of the sessions shortly after the event. Monday, October 4 is the last day to register — so register now!
Among this year's featured sessions are:
Post-Pandemic Workplace Challenges for the HR Professional — Jennifer Shaw, Shaw Law Group, will discuss wage and hour and other hot topics related to today's telework and "hybrid" workplaces.
Inclusive Organizations Win with DEI — Learn from Kuma Roberts, Arrowhead Consulting, on how to embrace diversity, equity and inclusion (DEI) to engage employees, reduce turnover, increase profitability and make your organization more sustainable.
5 Key Elements and Insights for Identifying and Overcoming Career Obstacles — Amii Barnard-Bahn, Barnard-Bahn Coaching & Consulting, will cover the five key elements of promotability to refine professional skills and inspire high performance from employees.
Organizational Re-Set: Five Steps to Take Now — Yvonne Gardner, Gallagher, will speak to the challenges and inevitable organizational changes resulting from the COVID-19 pandemic, including supporting and retaining staff.
Ask the Experts — Erika Frank, Shaw Law Group, and Matthew Roberts, CalChamber, will answer attendee questions live about flexible scheduling, the California Family Rights Act (CFRA), paid sick leave (California-specific and supplemental) and much more.
The price to attend the HR Symposium is $299 ($239.20 for CalChamber Preferred and Executive Members). Earn 8 HRCI California recertification credits, SHRM PDCs and MCLE credits.
To register, call (800) 331-8877 or visit the CalChamber store by Monday, October 4.
Major sponsors of the CalChamber 2021 HR Symposium are Barnard-Bahn Coaching & Consulting and DoorDash. Lunch is on DoorDash! DoorDash is providing a $25 gift card to all registered attendees to use at their convenience.