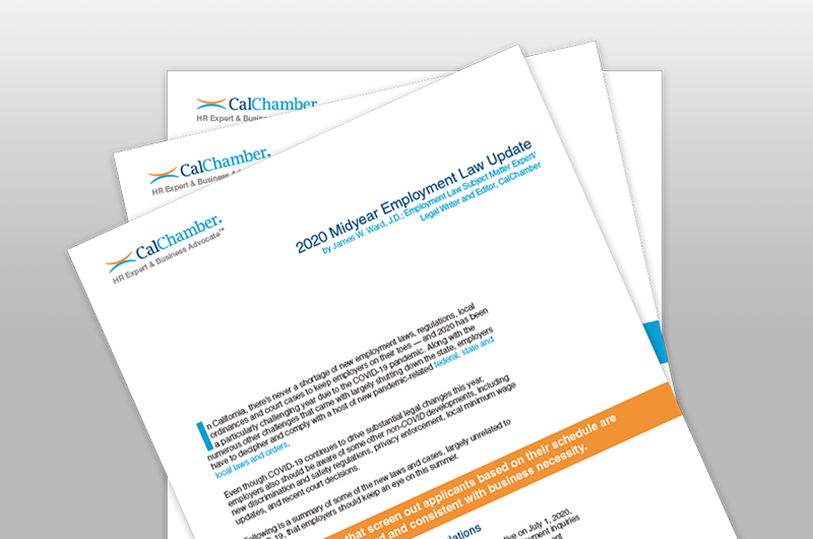 As we chug along in one of recent history's most interesting years (to put it mildly), much of the focus has been on the COVID-19 pandemic, but employers should also be aware of some non-COVID developments — including new discrimination and safety regulations, privacy enforcement, local minimum wage updates, and recent court decisions.
Luckily, one of CalChamber's employment law experts has highlighted the significant developments so far this year in our free 2020 Midyear Employment Law Update white paper, which includes information on:
New Fair Employment and Housing Act (FEHA) regulations, effective on July 1, 2020, that clarify what pre-employment practices constitute age- and religious creed-based employment discrimination;
A new California Division of Occupational Safety and Health (Cal/OSHA) lighting regulation for outdoor agricultural work effective July 1, 2020;
The extension of Cal/OSHA's emergency wildfire smoke regulation until September 22, 2020;
Workers' compensation bills in the California Legislature;
Enforcement of the California Consumer Privacy Act beginning July 1, 2020;
Expansion of Paid Family Leave; and
Local minimum wage increases.
You'll also learn about court decisions on discrimination, background report disclosures and employee compensation during security screenings, to name a few, as well as other bills in the California Legislature that would expand state leaves of absence laws.
CalChamber members can download the white paper from the HR Library; nonmembers can download it here. CalChamber also offers convenient HR compliance products and services for current and comprehensive employment law information. Not a member? See how CalChamber can help you.