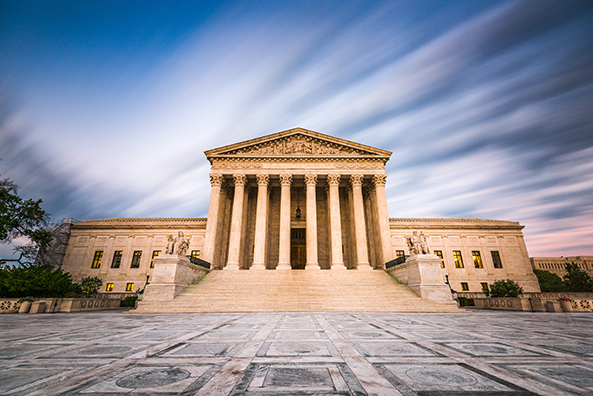 Just before the U.S. Supreme Court broke for recess at the end of June, it issued several landmark decisions, some of which have caught the attention of California businesses and employers for their potential — and in some cases unknown — impact.
The following U.S. Supreme Court cases about affirmative action, public accommodations and religious accommodation may impact businesses and employers, not just in California, but across the nation.
Affirmative Action
On June 29, 2023, the U.S. Supreme Court ruled that the race-conscious admissions programs used by Harvard College and University of North Carolina (UNC) violated the Equal Protection Clause of the Fourteenth Amendment, effectively striking down the use of affirmative action programs for college and university admissions across the country (Students for Fair Admissions, Inc. v. President and Fellows of Harvard College, No. 20-1199 (June 29, 2023)).
Under such programs, applicants' race could be a factor, in part, when being considered for admission. But the Court struck this practice down, holding in part that:
Harvard and UNC's asserted compelling interests for race-based admissions programs lacked sufficiently focused and measurable objectives that allow for court review under the strict scrutiny standard that must be applied for equal protection violations;
Both failed to articulate a meaningful connection between the methods they used and their diversity goals; and
The admissions programs failed strict scrutiny by using race as a stereotype or a negative, and by lacking a logical end point.
The Court also held that such programs violated Title VI of the Civil Rights Act of 1964, which states that no person in this country "shall, on the ground of race, color, or national origin, be excluded from participation in, be denied the benefits of, or be subjected to discrimination under any program or activity receiving Federal financial assistance."
However, the Court specified that nothing prohibits universities from considering an applicant's discussion of how race affected their life, "so long as that discussion is concretely tied to a quality of character or unique ability that the particular applicant can contribute to the university."
In California, this decision aligns with the passage of Proposition 209 by ballot initiative in 1996, which eliminated the use of affirmative action programs for state colleges and employment in the public sector. Now, however, any private colleges or universities within the state of California (and any higher education institutions in the nation) that have been utilizing this practice will need to reevaluate their current admissions programs in light of the Court's ruling.
While many legal experts in the education law arena continue analyzing the decision and its implications (to the extent they can be predicted at this time), employers also are curious about the ruling's legal significance on the workplace.
Employment-related decisions fall primarily under Title VII of the Civil Rights Act of 1964 (Title VII) and other state-level anti-discrimination laws, such as California's Fair Employment and Housing Act (FEHA) — both of which prohibit race discrimination in all significant employment decisions that negatively impact the terms, conditions or privileges of employment. And although neither of these laws, nor the context of the workplace, were at issue in this case, some may wonder if the decision could have an indirect and negative impact on corporate diversity, equity and inclusion (DEI) programs, potentially through litigation that would attempt to take the Court's reasoning and apply it to the workplace.
The short answer is that DEI is and will remain an accepted practice.
"It remains lawful for employers to implement diversity, equity, inclusion, and accessibility programs that seek to ensure workers of all backgrounds are afforded equal opportunity in the workplace," said Charlotte A. Burrows, chair of the U.S. Equal Employment Opportunity Commission (EEOC), the agency enforcing anti-discrimination laws at the federal level, in a statement.
CalChamber President and CEO Jennifer Barrera echoed that sentiment for California employers.
"We strongly support the efforts of companies who prioritize creating fair, diverse and inclusive environments for all workers," she said. "While the U.S. Supreme Court's decision does not directly apply to employers, we understand the ruling has sparked concern about the future of DEI efforts in many organizations. Outreach, training and other DEI fundamentals should not be impacted by the court's decision, and we strongly encourage all employers to continue to make these a priority."
Potential future legal challenges aside, another concern is how the U.S. Supreme Court's ruling will impact diversity on college campuses, which many employers rely upon as a pipeline of diverse and qualified talent during the recruitment process. California's Proposition 209 provides a tangible example of the impact that banning affirmative action had on state schools: According to a 2020 study, enrollment among Black and Latino students at UC Berkely and UCLA dropped significantly two years after Prop 209's ban on affirmative action. So, if a similar result occurs on a broader scale, employers may need to be even more intentional and creative in looking for qualified diverse talent during their recruitment efforts.
Employers should review their DEI efforts through the lens of this recent ruling to ensure nothing in their policies or practices can be perceived as unlawful. Additionally, continuing to train those involved in recruiting and hiring efforts around the importance of DEI and its significance in the workplace will help businesses to continue to foster an inclusive work environment. Lastly, employers should continue to monitor any state and local laws that may impact their DEI efforts.
Public Accommodations
On June 30, the U.S. Supreme Court held that it would violate the Free Speech Clause of the First Amendment for Colorado to force a website designer to create a wedding website for a same-sex couple, because it would compel her to create speech in which she did not believe (303 Creative LLC, et al. v. Elenis, No. 21-476 (June 30, 2023)).
Under Colorado's Anti-Discrimination Act (CADA) it's unlawful for a business to hold itself out to the public and deny any individual the full and equal enjoyment of the business's good or services because of a protected class, including sexual orientation.
The petitioner in the case, Lorie Smith, business owner of graphic design business 303 Creative LLC, wanted to expand her graphic design business to include the creation wedding websites — but she didn't want to be compelled by Colorado to create such websites celebrating same-sex marriages, which is inconsistent with her religious belief that marriage should be reserved to unions between a man and a woman. To clarify her rights before even offering such services, she sought injunctive relief. The Tenth Circuit ruled in favor of the state, but the U.S. Supreme Court reversed, finding that the First Amendment prohibits Colorado from forcing a website designer to create expressive designs speaking messages with which she disagrees (i.e., same-sex marriage).
The Tenth circuit, like the U.S. Supreme Court, found that Smith's websites would constitute speech, but where the lower court diverged was in holding that CADA's accommodation clause didn't impermissibly compel speech or violate free speech rights, and that overall, CADA was a neutral law of general applicability not subject to strict scrutiny for a free exercise challenge.
The U.S. Supreme Court found that under the Court's precedents, the wedding websites Smith seeks to create qualify as "pure speech protected by the First Amendment." Specifically, it was stipulated among parties that Smith's websites would express and communicate ideas, primarily those that "celebrate and promote the couple's wedding and unique love story" and those that "celebrat[e] and promot[e]" what Smith understands to be marriage. It was also stipulated that the websites she plans to create "will be expressive in nature," and "customized and tailored" through close collaboration with individual couples — and that Smith does not seek to sell an "ordinary commercial good but intends to create 'customized and tailored' speech for each couple."
California is one of several states (approximately half in the country, as mentioned in the Court's opinion) that expressly prohibits discrimination on the basis of sexual orientation. Protections are provided under the FEHA, as well as the Unruh Civil Rights Act (California's version of Colorado's CADA), which requires both public and private businesses to provide individuals "full and equal accommodations, advantages, facilities, privileges or services in all business establishments."
This ruling has raised significant concerns around LGBTQ rights and its ramifications, and there is a broader question of what this may mean for other protected classes as currently protected by California's public accommodations laws. Whether this will open the door to similar cases — and not just in the context of same-sex marriage and sexual orientation, but related to other protected characteristics, such as race, gender, etc. — remains to be seen. As it stands today, however, California businesses that are open to the public are still obligated to offer their goods and services in a non-discriminatory manner that complies with the Unruh Civil Rights Act.
Religious Accommodation
On June 29, 3023, the U.S. Supreme Court unanimously revised Title VII's religious accommodation and "undue hardship" analysis, unanimously holding that Title VII requires an employer that denies a religious accommodation to show that the burden of granting an accommodation would result in substantial increased costs in relation to the conduct of its particular business (Groff v. Dejoy, No. 22–174, (U.S. June 29, 2023)).
The Court also stated that a prospective accommodation's impact on coworkers is relevant only to the extent that impact goes on to affect the conduct of the business. In other words, employers must make a logical connection between the impact an accommodation has on its employees (e.g., covering someone's shifts, working overtime) and how that affects the conduct of the business (e.g., productivity, morale, workplace safety, etc.). The Court also clarified that hardship, in the form of hostility to a religious belief, practice or accommodation, is not "undue," i.e., it cannot provide a defense.
As we previously reported, this case doesn't change the applicable legal standard under California law. The California Fair Employment and Housing Act (FEHA) also requires employers to provide reasonable accommodations for religion unless it would impose an undue hardship, which the FEHA defines as "an action requiring significant difficulty or expense," when considering several enumerated factors.
California employers should consult with their legal counsel on the potential impact of this case on their policies and potential defenses under federal and state law, and multi-state employers should review their religious accommodation policies and consult with their legal counsel to determine if any changes are necessary.
Bianca N. Saad, Vice President of Labor and Employment for Content, Training and Advice, CalChamber. James W. Ward contributed to this story.
CalChamber members can read more about laws prohibiting discrimination, including Title VII of the Civil Rights Act and California's Fair Employment and Housing Act in the HR Library. Not a member? Learn how to power your business with a CalChamber membership.