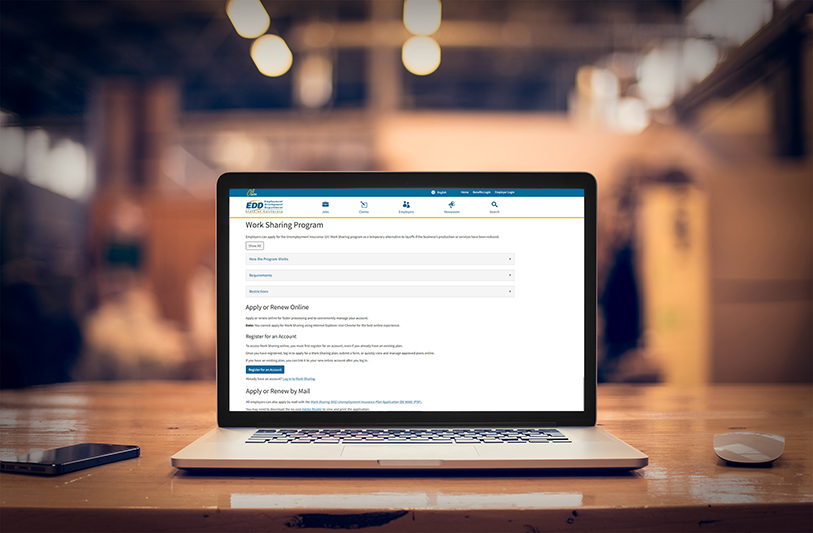 Initially a temporary fix to a COVID-19-related economic slowdown, the Employment Development Department's (EDD) online, streamlined Unemployment Insurance (UI) Work Sharing program process is officially permanent.
As a temporary alternative to layoffs during a reduction in production or services, employers have, for decades, had access to the UI Work Sharing program, which allows them to reduce employee work schedules and have affected employees collect partial unemployment benefits for the time reduced.
To take advantage of the program, however, employers had to mail a paper application — the Work Sharing Unemployment Insurance Plan Application (DE 8686) — to the EDD.
But in 2020, in response to the COVID-19 pandemic, Governor Gavin Newsom approved changes to this program on two separate occasions:
On April 15, 2020, the governor signed Executive Order (EO) N-50-20, which directed the EDD to establish an electronic means of expediting access to the work sharing program and gave the EDD discretion to suspend certain application requirements for that purpose.
On September 28, 2020, Newsom signed legislation (AB 1731) that allowed employers to submit and be approved for work sharing plan programs completely online, further streamlining the process.
But AB 1731 included a January 1, 2024, sunset date for the program's online application process. So, during this legislative session, Assemblymember Tasha Boerner Horvath (D-Encinitas) introduced AB 1854, which extends the provisions under AB 1731 indefinitely, and requires the EDD to accept electronic signatures on all work sharing plan documents.
On July 19, 2022, Newsom signed AB 1854, repealing that sunset date and effectively making the new online process permanent.
"EDD's Work Sharing program helps employers keep employees on the payroll and be in a better position to recover once conditions improve," Boerner Horvath said in a press release. "AB 1854 simply ensures that employers can continue to make use of the streamlined online application to retain their talent."
Employers can access the EDD's Work Sharing Program, including requirements and restrictions, online.
Jessica Mulholland, Managing Editor, CalChamber
CalChamber members can read more about the EDD's Work Sharing Program in the HR Library. Not a member? See how CalChamber can help you.