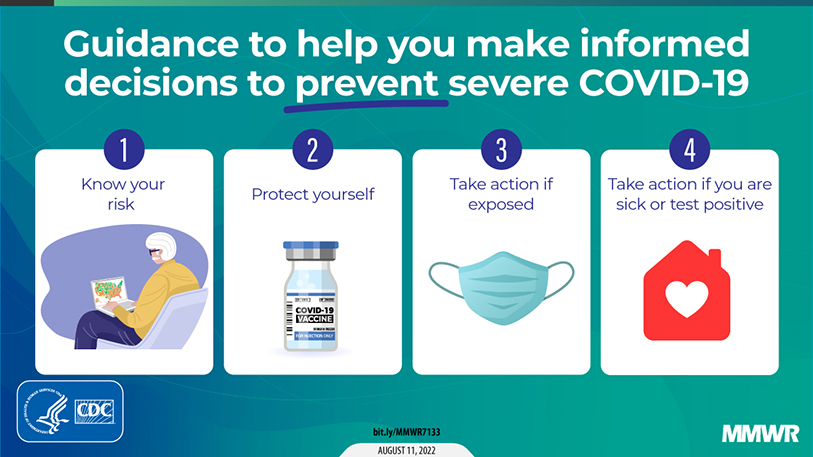 On August 11, 2022, the U.S. Centers for Disease Control and Prevention (CDC) issued guidance that eliminates precautionary quarantining (isolation is recommended only for those with symptoms and a positive test), and urges people to focus on masking, boosters and testing to limit and ultimately prevent the spread of COVID-19.
The CDC guidance, titled, "Summary of Guidance for Minimizing the Impact of COVID-19 on Individual Persons, Communities, and Health Care Systems," also states that children no longer need to "test to stay" in school, and most Americans don't need to social distance.
The reason, according to the guidance, is that "high levels of vaccine- and infection-induced immunity and the availability of effective treatments and prevention tools have substantially reduced the risk for medically significant COVID-19 illness … and associated hospitalization and death."
As a reminder, California employers ultimately need to monitor and follow the California Division of Occupational Safety and Health (Cal/OSHA) and the California Department of Public Health (CDPH) guidance as they continue to address COVID-19 in the workplace.
Right now, this means employers must provide face coverings and ensure they are worn when required by the CDPH. While masks are strongly recommended for everyone indoors, they aren't currently required — unless workers are in the health care, correctional facilities, long-term care settings, emergency shelters and cooling and heating centers, or homeless shelters. If an outbreak occurs, workers must wear masks during the outbreak, as well as when returning to work following COVID-19 infection or a close contact. Employers must provide workers with masks upon request at no cost.
For all workplace criteria related to prevention, infections, outbreaks and major outbreaks in California, review the COVID-19 Prevention Emergency Temporary Standards. As previously reported, the California Occupational Safety and Health Standards Board (OSHSB) plans to vote to turn the emergency temporary standard into a "permanent" regulation before the end of the year. Comments on the proposed regulations are due by the OSHSB's September 15, 2022, meeting.
Jessica Mulholland, Managing Editor, CalChamber
Read CalChamber's free Revised Cal/OSHA COVID-19 Workplace Rules: What Employers Need to Know white paper to help you navigate COVID-19-related workplace rules (CalChamber members can read it here). Not a member? See what CalChamber can do for you.