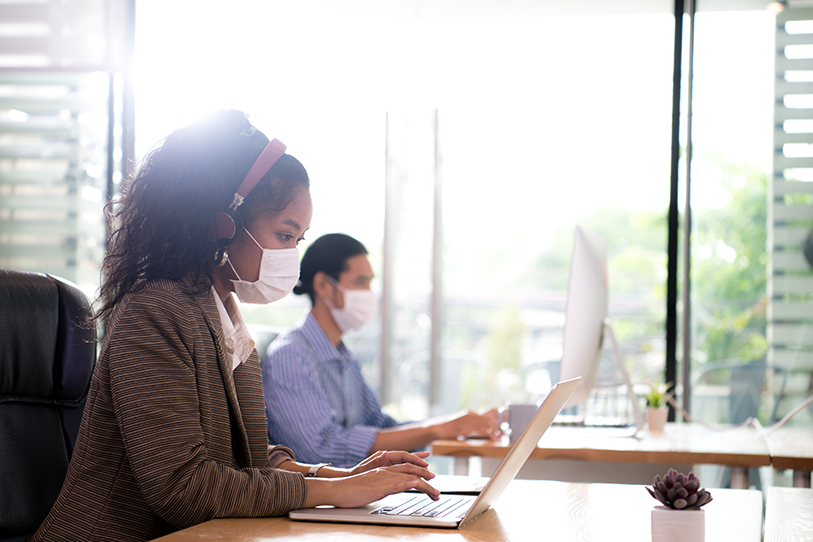 Roughly a month ago, the California Department of Public Health (CDPH) updated its Guidance for the Use of Face Coverings requiring that individuals in certain settings wear masks indoors and recommending that all individuals wear face coverings while indoors regardless of vaccination status. And on August 25, 2021, the California Division of Occupational Safety and Health (Cal/OSHA) officially stated that it recommends employers and workers follow this update as a best practice. 
Under Cal/OSHA's current COVID-19 Prevention Emergency Temporary Standards, fully vaccinated employees are not required to wear a face covering in the workplace. These standards went into effect back in June, before the Delta variant hit the golden state.
Since that time and in response to a surge of COVID-19 cases, many localities have re-instituted mask mandates regardless of vaccination status,  including several in the Bay Area (Benicia being the most recent), Los Angeles, Sacramento, Yolo and others. So, while fully vaccinated employees are generally not required to wear masks indoors per Cal/OSHA's Emergency Temporary Standards, employers in jurisdictions with mandated indoor masking for all must follow the masking mandate. That means that employers outside of these jurisdictions can follow Cal/OSHA's recent recommendations and bring face-coverings back for all regardless of vaccination status.
Whether Cal/OSHA amends the standards and reinstitutes a face covering mandate for all employees remains to be seen, but in the meantime California employers should keep an eye on Cal/OSHA's Emergency Temporary Standards and any local mandates should additional changes be made.
Jessica Mulholland, Managing Editor, CalChamber
The new Revised Cal/OSHA COVID-19 Workplace Rules: What Employers Need to Know white paper is now available for nonmembers to download. CalChamber members can access the white paper here.
CalChamber members can read more about the COVID-19 Emergency Temporary Standard in IIPP and COVID-19 within the HR Library. Not a member? See how CalChamber can help you.