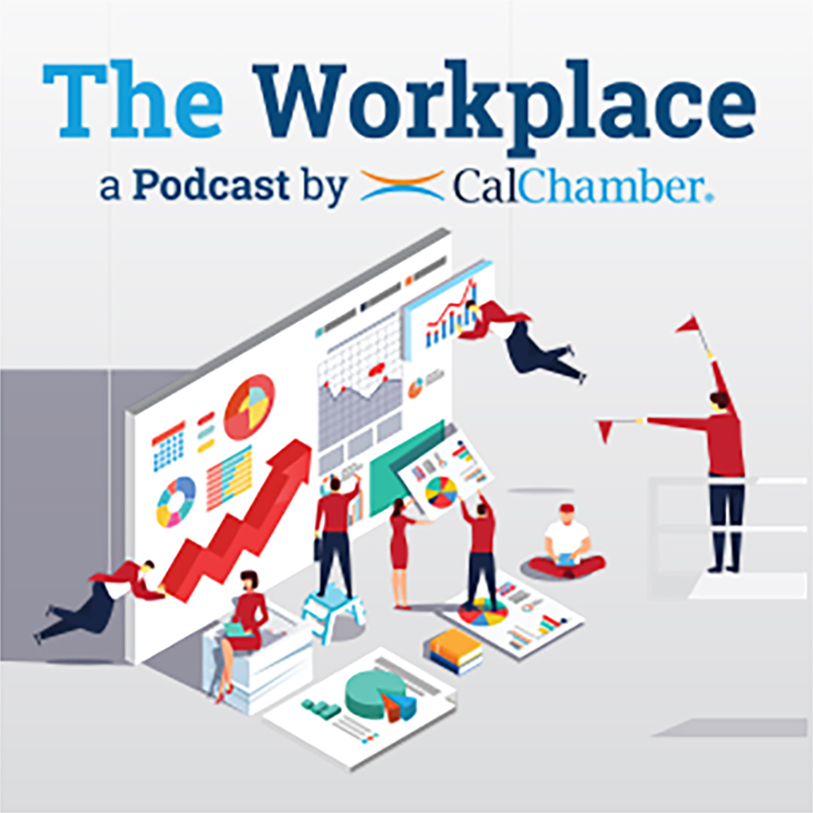 In this episode of The Workplace podcast, CalChamber Executive Vice President and General Counsel Erika Frank and employment law expert Jennifer Shaw discuss what employers need to consider before mandating that their employees get the COVID-19 vaccine.
The recent distribution of the COVID-19 vaccine has sparked a lot of questions from employers and many of them are asking whether employees can be required to get the vaccine, Frank tells podcast listeners.
Because the COVID-19 vaccine is so new, employers may find it helpful to put employees' minds at ease and direct them to the Centers for Disease Control and Prevention (CDC) website so that they may learn more about the safety measures taken for developing the vaccine and how its efficacy is evaluated, Shaw suggests.
Even though the vaccine is available, Shaw adds, it's clear that reaching herd immunity is going to be a slow process that may not be achieved until 2022. So, it's very important that employers remain diligent about social distancing protocols, she stressed.
This podcast was recorded on January 12. Listeners should be aware that given the unpredictability of the COVID-19 pandemic, information shared on this podcast episode may change at any time.
Problems with Mandating the Vaccine
While it is tempting to require that all employees take the COVID-19 vaccine in order to show up for work, Shaw cautions that there are a number of problems which employers must consider.
First, there will be some employees who will have a legitimate reason why they cannot get the vaccine — either for religious reasons or due to medical conditions. These situations will require that the employer commence the interactive process and maintain proper documentation. All of this takes a lot of time, and if half of an employer's workforce asks for a reasonable accommodation, it can be a tremendous undertaking, Shaw explains.
Second, if an employee were to have a reaction to the vaccine, the employer may be liable for workers' compensation claims because the vaccine was required in order to show up to work.
Third, mandating the vaccine holds morale implications. Some employees may hold strong reservations and opinions regarding the safety of the COVID-19 vaccine and vaccines in general.
"Do you want to create the morale issue that you're going to have by forcing unwilling people to get the vaccine? Now, obviously a mandatory vaccine program doesn't mean you're going to drag them down to the vaccine station kicking and screaming, but they have to choose between the vaccine and a job — that's really what we're asking them to choose when we are talking about a mandatory vaccine program. So, there are morale implications, there are employee relations implications," she says.
The last issue to consider is how the vaccine would be administered. Is the employer going to do it? If so, there are all sorts of medical documentation that will be required, so the employer would need to bring in a third party, which increases costs, Shaw explains.
Currently, there is no mandate that employers provide COVID-19 vaccines, and California is still following a hierarchy as to who can receive the vaccine first. So, while this conversation may be a bit early, these are still important things to consider, Shaw says.
Vaccine Not 'Medical Exam'
The U.S. Equal Employment Opportunity Commission (EEOC) has stated that administration of the COVID-19 vaccine does not constitute a "medical exam," Frank says.
This opens up the ability for any employer to develop a mandated program provided they deal with the reasonable accommodation issues mentioned earlier, Shaw explains. While the EEOC is giving employers the green light, it also is requiring that a protocol be put in place, with required documentation and employee communication.
"So, it's not something like 'Oh, I think I'll just run my team down to CVS and get them a mandated COVID-19 vaccine.' It just doesn't work that way," she says.
Employers should, however, encourage their employees to get the COVID-19 vaccine when it becomes available to them, similar to how employees are encouraged to get the flu vaccine during cold and flu season, Frank says.
If an employer, however, is thinking about making the COVID-19 vaccine a part of an incentive program, they should keep in mind that not all employees will be able to get the vaccine due to religious or medical reasons, Shaw points out. So, if an employer offers $25 to employees who get the vaccine, the employer should also offer the $25 to employees who cannot get the vaccine due to a legitimate health or religious reason.
As of this podcast recording, state agencies have yet to release guidance on COVID-19 vaccines in the workplace, so this is an evolving issue, Frank tells listeners.
Be sure to visit the CalChamber Coronavirus Resource page to stay updated on the latest COVID-19 news affecting your workplace at https://www.calchamber.com/coronavirus.