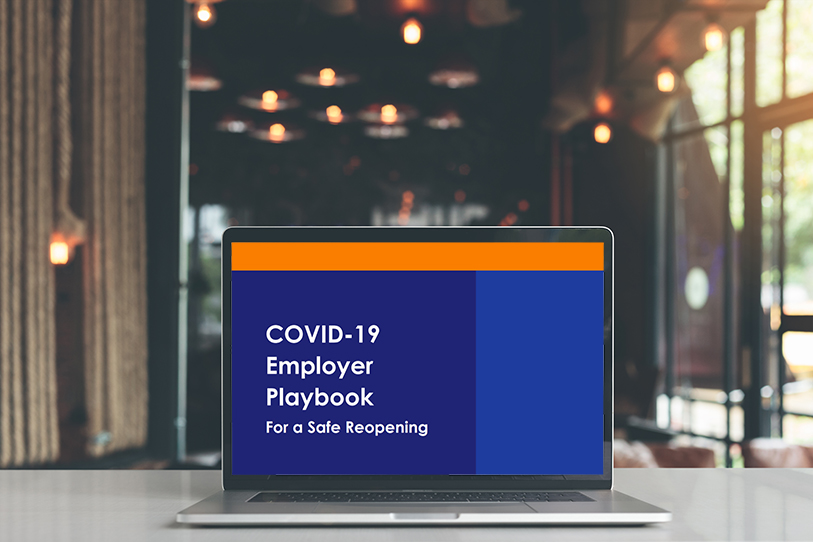 On July 24, 2020, when the reported number of COVID-19 cases in California surpassed 425,000, Governor Gavin Newsom announced a new playbook — called the "Employer Playbook for a Safe Reopening" — to guide employers on how to provide a safe and clean environment for workers and customers to reduce the risk of spreading COVID-19.
"We want to continue to work in the spirit of collaboration and partnership with our employer community to educate," Newsom said during the press conference, "not only employers large and small, but to help them educate employees as well."
The 32-page Employer Playbook for a Safe Reopening includes a compilation of industry-specific guidance, checklists and tools to help employers open safely and mitigate risks associated with COVID-19.
As previously reported and in accordance with the Governor's resilience roadmap and industry guidelines, the playbook also specifies that before reopening, all facilities must:
Perform a detailed risk assessment and create a work site-specific COVID-19 prevention plan.
Train workers on how to limit COVID-19's spread, which includes how to screen themselves for symptoms and when to stay home.
Set up individual control measures and screenings.
Put disinfection protocols in place.
Establish physical distancing guidelines.
Establish universal face covering requirements (with allowed exceptions) in accordance with California Department of Public Health (CDPH) guidelines (for further guidance on enforcing mask requirements, see Appendix A).
The state's COVID-19 website for industry guidance recommends that businesses review the playbook guidance that's relevant to their workplace, make a plan and put that plan into action. It also recommends posting your completed checklist "so everyone can know the steps you've taken" and to feel free to add more safety measures to the ones listed in the playbook.
Additional guidance released recently includes for services that can be provided outdoors, like hair, nail and massage services, and for outdoor dining, all in counties that have been on the Monitoring List for three consecutive days; and the CDPH issued guidance on the use of face coverings, which requires people to use face coverings when in public or common spaces. 
"Stopping the spread of COVID-19 depends on keeping our workers safe," Newsom said in a press release. "The vital work they do every day puts them and their families at higher risk for exposure and infection. Taking action to protect them will help protect all Californians."
Jessica Mulholland, Managing Editor, CalChamber
For more COVID-19-related federal, state and local resources, visit the CalChamber Coronavirus (COVID-19) webpage and access additional COVID-19-related HRWatchdog blogs.