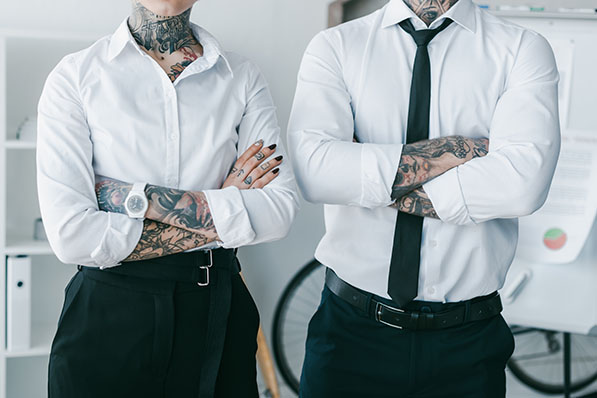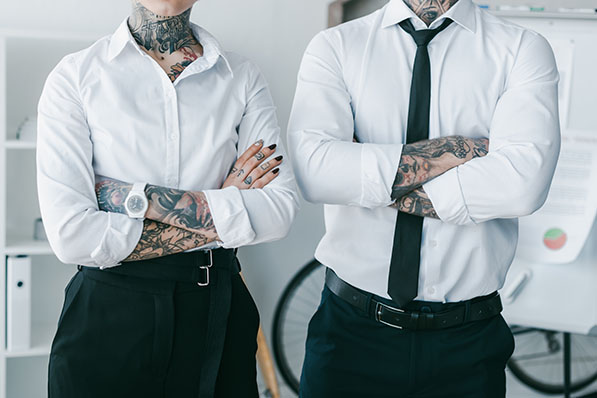 Office etiquette standards and views have evolved in today's modern workplace. Some of what was considered inappropriate back then (casual dress and non-traditional piercings) is now acceptable, according to a recent Accountemps survey. Yet, bad language, pets and political décor continue to be employees' biggest workplace offenses.
Ninety-one percent of managers surveyed agreed that workplaces have loosened up and are less formal than 10 years ago. About one-third of the companies surveyed don't have a problem with employees donning visible tattoos (35 percent), casual attire (34 percent) and non-traditional hair color (34 percent). But these managers also find using foul language (54 percent), bringing pets to the office (51 percent) and displaying political signs or messages (48 percent) are still no-no's at work.
"Workplace policies today are designed to attract and retain employees, and that often means they're more relaxed," said Mike Steinitz, executive director of Accountemps, in a press release. "There can also be unwritten rules of behavior or dress that are specific to a particular company or industry."
Regardless, employers need to recognize how they approach and enforce different types of office etiquettes in the workplace. Depending on your company's industry, being consistent with your workplace policies is key in preventing any potential forms of discrimination.
"Staff shouldn't feel like they're walking on eggshells at work, but it's important to be respectful of others and ensure your actions don't cause a distraction or compromise your professional reputation," Steinitz added.
If you are uncertain on how to approach a form of office etiquette in your company, consult with legal counsel.
Vannessa Maravilla, Editor, CalChamber
CalChamber members can read more information on workplace dress code policies in the Dress Standards in HR Library. Not a member? See what CalChamber can do for you.