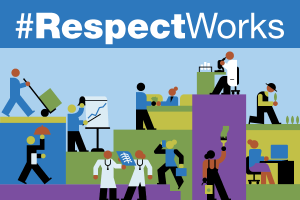 The California Chamber of Commerce is kicking off #RespectWorks, a campaign to promote inclusiveness and prevent harassment in the workplace. A large and growing list of California companies have joined the campaign, pledging to use proven best practices to prevent harassment.
"Harassment has no place in our workplaces," said Allan Zaremberg, President of CalChamber. "Joining #RespectWorks demonstrates an employer's solid commitment to their workers and the success of their company. Harassment-free workplaces have higher retention rates, recruit and hire the most qualified workers and are more productive and successful."
Companies joining the campaign include: Blue Diamond Growers; Ernst & Young; AT&T; Hornblower Cruises & Events; Gordon Biersch Brewing Company; Albertsons Companies; Sacramento River Cats; Evans Hotels; OUTSOURCE Consulting Services; and many others.
#RespectWorks is free for companies to join. Visit respectworks.calchamber.com to sign up! Companies who sign up will receive:
A sample Harassment, Discrimination and Retaliation Prevention Policy;
A Harassment Prevention Policy Implementation Checklist;
A #RespectWorks poster for displaying in your office(s); and
A monthly tip, which focuses on the practical aspects of creating workplaces free from abusive conduct.
"#RespectWorks in an important campaign to remind both employers and employees the importance of maintaining workplaces that are both inclusive and free from harassment. I challenge all California employers to join the impressive list of companies supporting this effort and help drive us all to be more successful," said Mark Jansen, President & Chief Executive Officer, Blue Diamond Growers.
CalChamber also provides free white papers on Required Harassment Prevention Training FAQs (members can view here) and 10 Things You Might Not Know About Sexual Harassment: What You Don't Know Can Hurt You (members can view here).