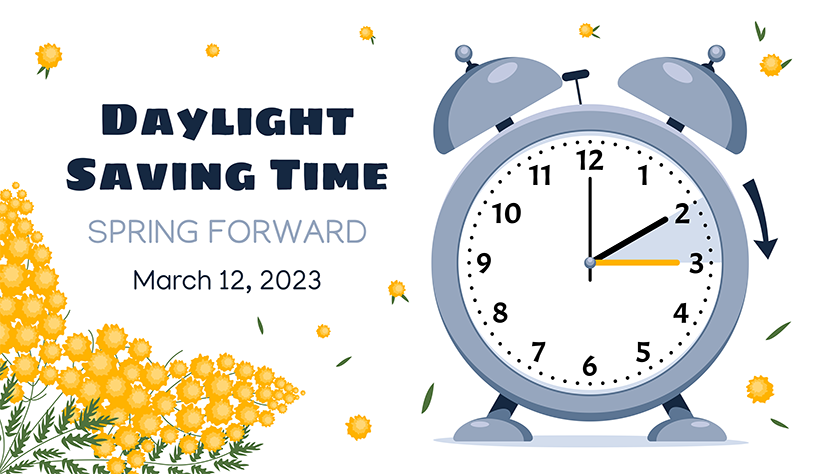 While we wouldn't know it from the recent cold, wet weather throughout much of California, spring is arriving shortly — and with spring comes longer days, thanks to Daylight Saving Time (DST), which is upon us! This weekend, it's time to spring your clocks forward an hour — DST begins this Sunday, March 12, at 2 a.m.
Aside from the hassle of losing an hour of sleep, there may be practical concerns for employers, especially those with employees who work graveyard shifts. Since DST starts Sunday at 2 a.m. local time — meaning 2 a.m. instantly becomes 3 a.m. — graveyard shift employees may only work and need to be paid for a seven-hour shift that night. Employers with employees working overnight are encouraged to review timekeeping practices to make sure all employees are accurately paid for all hours worked.
Also of note is that during the week following the change to DST, there's an increase in car accidents, according to the American Academy of Sleep Medicine (AASM), which lists other negative, short-term consequences of seasonal time changes, including:
An increase in patient-safety related incidents associated with human error in the week following the transition into and out of DST;
Increased risk of stroke and hospital admissions; and
Increased production of inflammatory markers, one of the body's responses to stress.
For employers, this means DST likely will affect their workers in some way. Most people lose up to 40 minutes of sleep after DST, which may not seem like much, according to Entrepreneur, but it's just enough to throw a wrench in our circadian rhythm. And this wrench, so to speak, may cause fatigue and daytime sleepiness, and impact employees' work performance, concentration and memory.
Making DST permanent has been a topic of discussion for many years, and an increasing number of Americans now want to do so, according to a Monmouth University poll conducted this time last year. More specifically, the poll showed that 6-in-10 respondents want to do away with the twice-yearly time change.
In that vein, five years ago in California, nearly 60 percent of voters passed 2018's Proposition 7, which authorized the state to pass legislation making DST permanent. Nineteen other states have passed similar legislation, but the federal Uniform Time Act law doesn't allow states to make DST permanent without Congressional approval. (States can, however, pass a law that will exempt them from observing DST, according to the U.S. Department of Transportation).
Since 2018, Congress has considered the matter; that year, Florida Senator Marco Rubio introduced the Sunshine Protection Act — a bill that would make DST permanent — and has reintroduced it during every legislative session since. This bill passed the Senate in 2022, but was never addressed by the House. On March 4, 2023, Rubio again reintroduced the Sunshine Protection Act of 2023 with broad support from both Democrats and Republicans.
Proponents of permanently moving to DST suggest that it ultimately would reduce car crashes, strokes, heart attacks and seasonal depression. But many scientists argue this permanent switch wouldn't be good in the winter months. And some argue that DST as we currently experience it is actually a good thing.
No matter what the legislative future holds for DST, one thing is for certain: Sunday, March 12, at 2 a.m., Californians are springing forward. And for a few days afterward, employers may need to have a little extra patience as their employees acclimate to the time change.
Mike McCluskey, Senior Technical Editor
CalChamber members can read more about Timekeeping and Recording Guidelines, including accurately recording time, in the HR Library. Not a member? See what CalChamber can do for you.