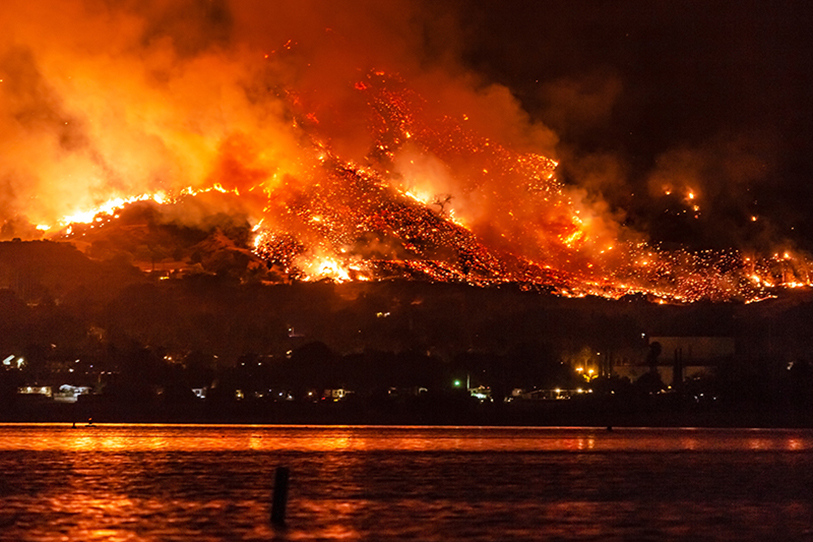 Following California's worst two wildfire seasons in 2020 and 2021, the 2022 fire season is showing no signs of letting up, despite the recent rainfall.
As of October 3, 2022, 6,594 fires have killed nine people, destroyed or damaged 880 structures, and burned more than 350,000 acres. And we're now in the midst of the most vulnerable months — September and October typically experience increased wildfires due to the intensified winds. Also as of October 3, 12 wildfires were simultaneously burning, and the Northern California Mosquito Fire has been deemed the largest in 2022 with more than 76,700 miles burned.
Ultimately, the term "wildfire season" is becoming obsolete, as fires now burn nearly year-round, such as the Colorado Fire in Monterey County and the Airport Fire in Inyo County that wrought havoc in January and February, respectively.
Employers in the state must adapt to this new normal by planning ahead for emergencies. The best way to do this is to implement and maintain both an Emergency Action Plan (EAP) and a Fire Prevention Plan (FPP). An EAP designates actions to take to protect employees from fire and other emergencies, while an FPP details the fire hazards your employees may face and how to handle a fire should the situation arise.
In fact, all California employers must have both an EAP and an FPP, and creating and communicating these plans to employees is the most important thing employers can do. Employers should inform employees that the plan exists and explain the EAP's steps. As an employer, you have an obligation to create and maintain a safe workplace for your employees.
When employees are initially assigned to a job or transferred to a new position, the employer should review with those workers parts of the EAP and FPP they must know to protect themselves in the event of an emergency. Employers should retrain employees if they change the EAP or FPP and periodically conduct emergency training and drills.
When considering emergency situations, employers should plan how they will handle and communicate office closings and determine who will make the final decision on whether to close. Employers should also determine if alternative workplaces are available, whether certain employees can work from home or whether to shut down all work during the emergency.
Also keep in mind that smoke lingering in the air from surrounding wildfires presents significant health risks, and most employers are now required to comply with the wildfire smoke standard, which includes monitoring smoke conditions and taking steps to reduce their employees' exposure.
EDD Assistance for Employers
In September, the California Employment Development Department (EDD) announced that employers in Riverside, El Dorado and Placer Counties directly affected by the Fairview and Mosquito Fires may request up to a two-month extension to file their state payroll reports and/or deposit payroll taxes without penalty or interest, as can employers in Siskiyou County directly affected by the Mill Fire.
The EDD must receive the written request for extension within two months from the original delinquent date of the payment or return. Visit the Emergency and Disaster Assistance for Employers page for more information.
Mike McCluskey, Senior Technical Editor, CalChamber
CalChamber members can use the Emergency Action Plan and Fire Prevention Plan forms to set up these plans for the workplace. Not a member? See how CalChamber can help you.