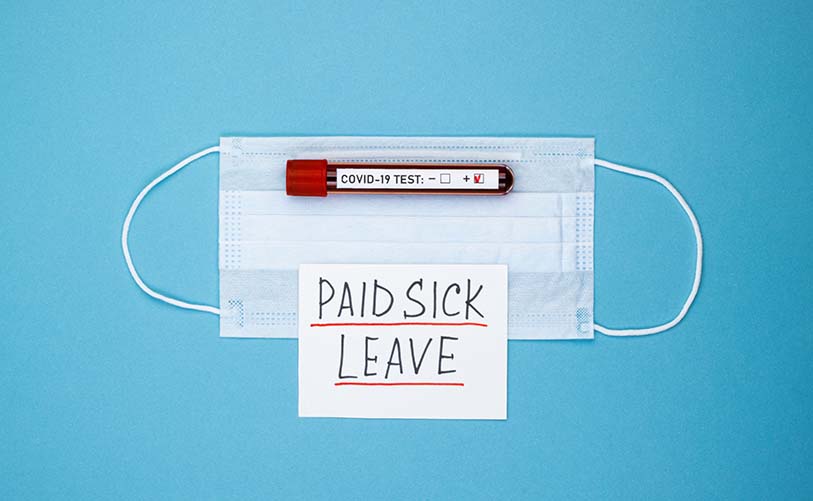 On September 29, 2022, Governor Gavin Newsom signed AB 152 into law. AB 152 is a budget trailer bill extending an employee's eligibility to use 2022 COVID-19 Supplemental Paid Sick Leave (SPSL) through December 31, 2022.
Update (October 3): The California Division of Labor Standards Enforcement (DLSE) has updated the SPSL poster to reflect the new expiration date. Employers should replace their existing posters with this version and may send the poster via email to employees who are completely remote.
As previously reported, when California initially enacted the 2022 COVID-19 SPSL program, employees were provided up to 40 hours of paid sick leave for the following seven qualifying reasons:
The employee is subject to a quarantine or isolation period related to COVID-19 as defined by an order or guidance from the State Department of Public Health, the federal Centers for Disease Control and Prevention, or a local public health officer who has jurisdiction over the workplace.
The employee has been advised by a health care provider to isolate or quarantine due to COVID-19.
The employee is experiencing symptoms of COVID-19 and seeking a medical diagnosis.
The employee is caring for a family member who's subject to a government quarantine, isolation order or guidance; or who has been advised by a health care provider to isolate or quarantine.
The covered employee is caring for a child, as defined in subdivision (c) of Section 245.5, whose school or place of care is closed or otherwise unavailable for reasons related to COVID-19 on the premises.
The employee is attending an appointment for themselves or a family member to receive a vaccine or a vaccine booster for protection against COVID-19.
The employee is experiencing symptoms, or caring for a family member experiencing symptoms, related to a COVID-19 vaccine or vaccine booster that prevent the employee from working or teleworking.
In addition, an employee could receive up to 40 additional hours of paid sick leave if their qualifying reason for leave related to the employee or a qualifying family member contracting COVID-19. SPSL was originally set to expire on September 30, 2022.
Although AB 152 does extend the availability of SPSL through December 31, 2022, it doesn't increase an employee's leave entitlement. This means that if an employee has already used all their SPSL hours earlier this year, they don't receive any additional hours. The California DLSE keeps an updated guidance resource for employers with further FAQs about administering SPSL.
Fortunately, California small businesses have some good news because AB 152 establishes a grant program to allow small businesses to recover up to $50,000 paid out in SPSL benefits over the course of the year. The grant program will be administered through the Office of the Small Business Advocate (OSBA) within the Governor's Office of Business and Economic Development (GO-Biz). Although GO-Biz and OSBA have not yet established the application process, AB 152 does establish criteria that can help small businesses prepare to apply as soon as the application period is open.
The grant is available to qualifying small businesses and non-profits. To qualify, the organization must:
Be a "C" corporation, "S" corporation, cooperative, limited liability company, partnership, limited partnership, registered 501(c)(3), 501(c)(6) or 501 (c)(19);
Have begun operating before June 1, 2021;
Be currently active and operating;
Have 26 to 49 employees and provide payroll data and an affidavit signed under the penalty of perjury attesting to the number of employees;
Have provided SPSL pursuant to the requirements of the law; and
Provide organizing documents including 2020 or 2021 tax returns or Form 990s, official filings with the Secretary of State of local municipalities such as Articles of Incorporation, Certificate of Organization, Fictitious Name of Registration, or Government-Issued Business License.
Some organizations that do meet the criteria above are excluded from the grant program. The exclusion includes organizations without a physical presence in the state, engaged primarily in political or lobbying activities, and financial institutions that primarily lend money.
While GO-BIZ and OSBA prepare to get the program up and running, employers that do meet the above criteria can begin to collect the information required to help expedite the process and take advantage of this grant program. Stay tuned to HRWatchdog for more updates!
Matthew J. Roberts, Labor Law Helpline Manager, Employment Law Counsel/Subject Matter Expert
CalChamber members can read more about COVID-19 Supplemental Paid Sick Leave in HRCalifornia Extra's Top Questions About California's 2021 COVID-19 Supplemental Paid Sick Leave. Not a member? See what CalChamber can do for you.