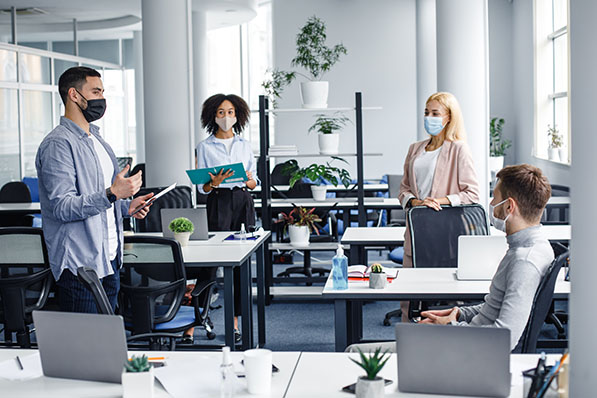 The California Division of Occupational Safety and Health (Cal/OSHA) has posted new FAQs on COVID-19 Prevention Emergency Temporary Standards (ETS) and posted fact sheets — all of which now explain and incorporate the latest ETS revisions that went into effect on Friday, January 14, 2022, as well as California Department of Public Health (CDPH) guidance on isolation and quarantine periods.
The first fact sheet, "What Employers Need to Know About the December 16 Standards," introduces the new revisions about investigating and responding to COVID-19 cases in the workplace, face coverings, testing and exclusion periods. and return to work criteria. The division revised previous definitions of "worksite," "COVID-19 test," "face coverings" and "fully vaccinated" to align with standards from the federal Occupational Safety and Health Administration (OSHA), but requirements that remain unchanged from the second ETS readoption in mid-December are also included.
The second fact sheet, "What Employers and Workers Need to Know About COVID-19 Isolation and Quarantine," provides information on exclusion periods for employees exposed to COVID-19. Using this chart, employers can understand how vaccination status affects the isolation or quarantine requirement for their employees' specific situations. These updates are based on the new CDPH isolation and quarantine periods from the ETS revisions adopted in mid-December.
The new guidance highlights and clarifies the most recently adopted ETS changes, including the following:
Employers must make COVID-19 testing available to all employees after close contact, regardless of vaccination status.
In the event of a COVID-19 outbreak in the workplace, employers must ensure availability of weekly COVID-19 testing to all employees, or twice weekly testing in the event of a major outbreak, regardless of vaccination status.
If fully vaccinated employees can't be tested as required by CDPH quarantine guidance, they must wear face coverings and maintain a six-foot distance from others for 14 days after a close contact.
In employer-provided housing, employers must now ensure fully vaccinated employees comply with testing, isolation and quarantine requirements in the event of more than three COVID-19 cases in 14 days.
Face coverings are now required for fully vaccinated employees on employer-provided transportation.
New definitions of the terms "COVID-19 test," "face covering," and "fully vaccinated."
The primary update in the January 14 revision is for fully vaccinated employees; while they previously were exempt from the COVID-19 testing requirement following close contact, this is no longer the case.
Beza Sileshi, Editor, CalChamber
For the most current state and federal COVID-19-related mandates and guidelines that impact the workplace, join CalChamber's employment law experts for a 90-minutes webinar at 10 a.m. on Thursday, February 3, 2022. Register online or call (800) 331-8877 to sign up!