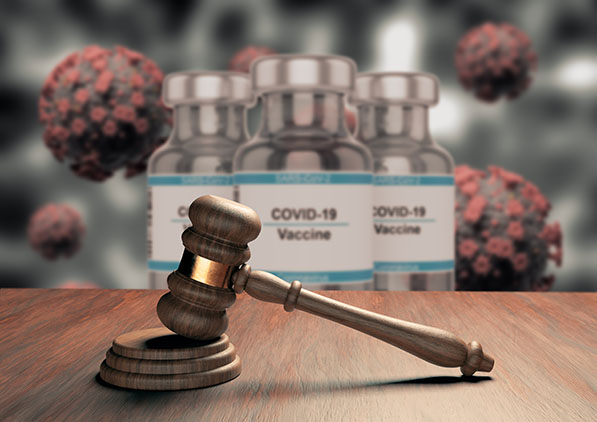 A lot's been happening lately in the world of vaccine mandates; or rather, there's a lot NOT happening after several federal courts put a hold on the different federal vaccine mandates issued by the Biden administration. Here's a quick roundup of where things stand right now.
Back in September, President Joe Biden announced his COVID-19 Action Plan, which, among other things, involved creating vaccine mandates for (1) all private employers with 100 or more employees, (2) health care workers at facilities that receive Medicare and Medicaid reimbursement, and (3) federal contractors.
As previously reported, on November 5, 2021, the federal Occupational Safety and Health Administration (OSHA) published an emergency temporary standard in the Federal Register requiring employers with 100 or more employees nationwide to implement a written workplace COVID-19 vaccination policy that complied with the rules set forth in the standard.
The day after publication, the standard was challenged in court, and the Fifth Circuit Court of Appeals granted an emergency stay halting enforcement. Because the OSHA standard was challenged in other jurisdictions as well, all the cases were consolidated and assigned to the Sixth Circuit Court of Appeals, where litigation is ongoing.
The Centers for Medicare and Medicaid Services (CMS) also published its rule on November 5, 2021, requiring full COVID-19 vaccination for health care workers at facilities that receive Medicare and Medicaid reimbursement. This rule was also challenged in court and halted nationwide. First, a coalition of 10 states brought a legal challenge in federal court in Missouri, which granted a preliminary injunction as to those states on November 29, 2021. The next day, November 30, a federal district court in Louisiana issued a similar preliminary injunction covering the remaining states, effectively halting the mandate nationwide pending judicial review.
Lastly, like the others, the federal contractor vaccine mandate, done via Executive Order, faces numerous challenges in the courts and is the latest to receive a nationwide injunction. First, on November 30, 2021, a federal district court in Kentucky issued a preliminary injunction effective in the three states that brought the challenge in that court. But shortly after that, on December 7, 2021, a federal district court in Georgia made it a nationwide injunction while the courts review the mandate.
Stated simply, all federal vaccine mandates that impact the private sector have been temporarily halted pending judicial review. The courts will sort out the complex and varied legal issues underpinning each case — cases that will undoubtedly be appealed for courts to sort out again.
In the meantime, we'll have to wait and see how the courts rule. Employers subject to the federal mandates should consult with their legal counsel on the impact of the injunctions and any steps they should take at this time.
But California employers must also remember state and local government vaccine requirements, such as the state's health care worker vaccine mandate. Employers should also keep their eye on other COVID-19 workplace rules, such as Cal/OSHA's emergency temporary standard, which is expected to be readopted with some amendments this month.
CalChamber will continue to provide updates on COVID-19 in the workplace as the issues continue to develop.
James W. Ward, J.D., Employment Law Subject Matter Expert/Legal Writer and Editor, CalChamber
CalChamber members can read more about Cal/OSHA's current COVID-19 emergency temporary standard, which directs employers to address a variety of issues related to COVID-19 in the workplace, in IIPP and COVID-19 in the HR Library. Not a member? See how CalChamber can help you.