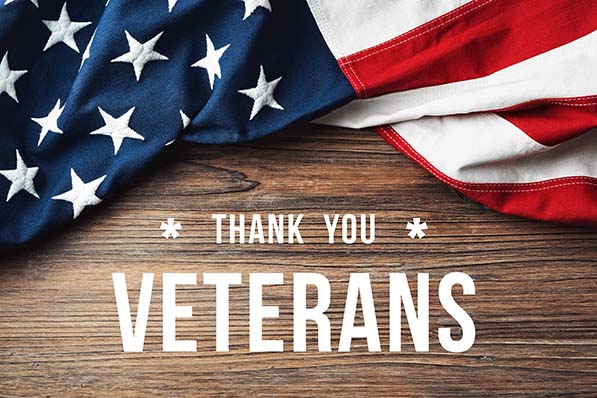 Veterans Day is next Monday, November 11. As we recognize and thank the brave men and women in the armed forces, we also recognize the value of the skills and expertise veterans bring to the workplace each day.
California is home to approximately 1.6 million veterans — the highest veteran population of any state in the nation. Military veterans may face many challenges making the transition back into civilian life, including challenges in the job market. About 200,000 U.S. servicemembers transition from the military to civilian life each year.
As a result of California's growing economy, the unemployment rate for veterans has been decreasing over the past couple of years — from 5.8 percent in August 2017 to 3.2 percent in August 2019, a 2.6 percent drop. Nearly one in 10 employed veterans work in management, such as a financial manager, information systems manager or emergency management director, while other top military veteran occupations include sales, protective service and transportation and material moving. Veterans are also well prepared for independent problem solving, decisiveness and intense focus. As EDD's 2019 Veterans Day Workforce Report says "The veteran's ability to silence distractions is a critical business skill that allows him or her to quickly assess situations and identify solutions that yield positive outcomes."
Veterans are protected under federal law, including the Uniformed Services Employment and Reemployment Rights Act (USERRA). About 62 percent of complaints received under the USERRA contain allegations of discrimination on the basis of past, present or future military service or status; 15 percent of the complaints allege improper reinstatement into civilian jobs after military service. Information on USERRA's protections and employer resources can be found on the Department of Labor's USERRA website.
California law protects individuals from discrimination based on military and veteran status and also provides certain job protections and return rights after periods of military service.
The California Employment Development Department (EDD) helps veterans and eligible spouses maximize employment and training opportunities. The EDD also offers assistance and tools to employers to help hire qualified veterans.
Vannessa Maravilla, Editor, CalChamber
For more information on military and veteran rights and protection, CalChamber members can visit Military Service Leave the HR Library. Not a CalChamber member? See how CalChamber can help you.