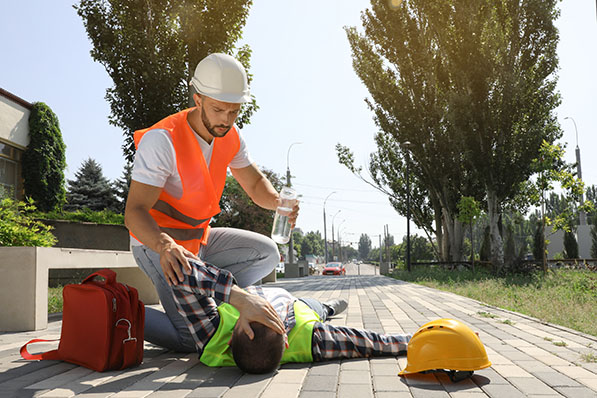 It's heating up throughout California — so the California Division of Occupational Safety and Health (Cal/OSHA) reminds employers to protect their outdoor workers from heat illness, which means providing water, rest, shade and training.
More specifically, California's heat illness standard, which applies to all outdoor places of employment, requires employers with outdoor workers to take the following steps to prevent heat illness:
Develop and implement an effective written heat illness prevention plan, including emergency response procedures.
Train all employees and supervisors in heat illness prevention.
Provide drinking water that is fresh, pure, suitably cool and free of charge so that each worker can drink at least one quart per hour and encourage workers to do so.
Encourage workers to take a cool-down rest in the shade for at least five minutes when they feel the need to do so to protect themselves from overheating. Workers should not wait until they feel sick to cool down.
Provide proper shade when temperatures exceed 80 degrees. Workers have the right to request and be provided shade to cool off at any time.
With temperatures anticipated to reach triple digits this weekend — hitting 102 degrees in Bakersfield, 100 degrees in Fresno, 103 degrees in Imperial County and 104 degrees in Palm Spring — certain industries must follow additional high-heat requirements. When the temperature at outdoor worksites reaches or exceeds 95 degrees, certain industries like agriculture, construction, landscaping, oil and gas extraction and transportation of agricultural products, construction materials or other heavy materials must actively observe and monitor workers for early signs of heat illness. This helps ensure sick workers are immediately treated and can prevent serious illness or death.
Employers also must keep in mind that since outdoor workers are experiencing these hotter conditions for the first time this year, they must be closely observed for any signs of heat illness, which include heat rash/prickly heat and heat cramps. If left untreated, heat illness can escalate to heat exhaustion, which includes the following warning signs:
Heavy sweating with cool, moist skin.
Fast, but weak pulse rate.
Shallow, fast breathing.
Paleness.
Muscle cramps.
Weakness or tiredness.
Dizziness.
Headache.
Nausea or vomiting.
Fainting.
Cal/OSHA provides information on heat illness prevention requirements and training materials on its Heat Illness Prevention web page and the Water. Rest. Shade. campaign site. A Heat Illness Prevention e-tool is also available on Cal/OSHA's website.
Cal/OSHA inspects outdoor worksites throughout the heat season.
Katie Culliton, Editor, CalChamber
CalChamber members can use Heat Illness Prevention Plan – Outdoor Employees (also in Spanish). Not a member? Learn how to power your business with a CalChamber membership.