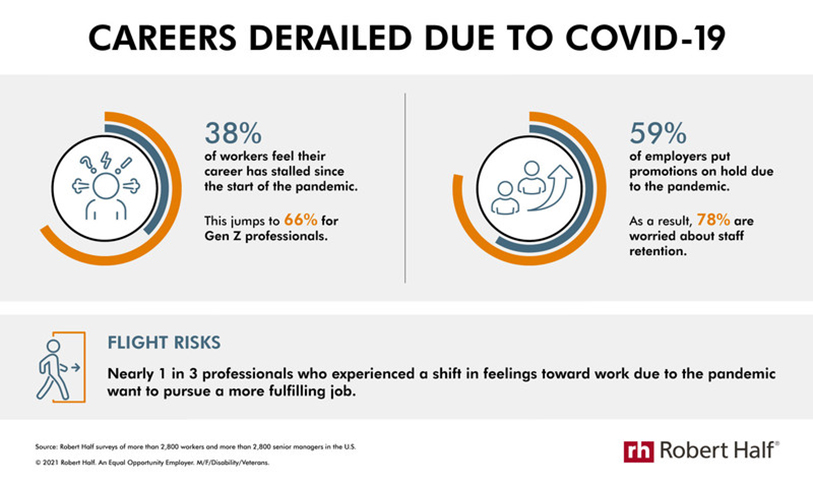 When the COVID-19 pandemic started in early 2020, California businesses faced difficult choices to preserve their companies while maintaining their workforce — but many workers were affected beyond furloughs and layoffs. More specifically, 38 percent of professionals said their career has stalled since the pandemic — and for Gen Z (those ages 18 to 24), that number jumps to 66 percent, according to research from global staffing firm Robert Half. These career setbacks include:
54 percent experiencing a lack of salary growth.
47 percent aren't seeing career advancement.
47 percent are struggling to grow their professional network.
44 percent aren't seeing enough skills development.
In the same vein, 59 percent of senior managers who responded to a poll postponed promoting top performers due to the pandemic, and 78 percent of those respondents worry about staff retention as a result. And that worry is not unfounded, as nearly 1 in 3 respondents said they had a shift in perspective due to the pandemic and want to pursue a more meaningful or fulfilling job.
"As the job market continues to rebound, employers need to be concerned about retention," said Paul McDonald, senior executive director at Robert Half, in a press release. "Younger professionals, especially, want to be challenged and may leave if they're unsatisfied."
In its blog, Robert Half offers some retention strategies employers can implement, including:
Mentorship programs, in which a new employee is paired with an experienced employee "mentor" who can welcome newcomers into the company, offer guidance and be a sounding board. Mentor-mentee relationships can also benefit existing staff, as well as an employee's overall employee retention outlook and team's job satisfaction.
Paying employees competitive compensation is highly recommended, but doing so requires evaluating and adjusting salaries regularly. This may be difficult due to pandemic-related conditions, so it's worth considering whether you could provide other forms of compensation, like bonuses, paid time off, health benefits or retirement plans.
Perks such as flexible schedules and non-pandemic-related remote work options can not only make your workplace stand out to potential new hires and re-engage current staff, but also boost employee morale.
Continuous performance feedback (rather than the annual performance review) in which managers talk with employees about their short- and long-term professional goals and help them visualize their future with the company.
"Now is the time for managers to invest in upskilling, review performance goals and develop mentoring programs that benefit all employees," McDonald said.
Jessica Mulholland, Managing Editor, CalChamber
CalChamber members can read more about bonuses and Private Retirement Savings Plans in the HR Library. Not a member? See how CalChamber can help you.