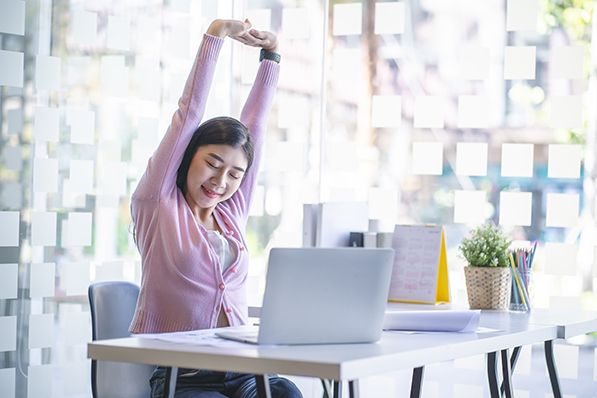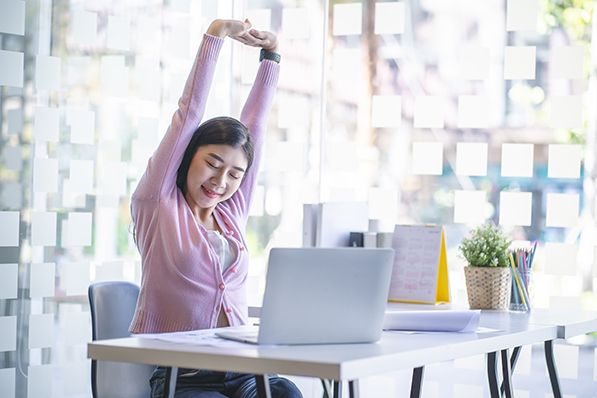 Have you and your employees been working from home the last few weeks? Do your eyes feel strained or your back and neck feel stuck in an awkward position? Your employees may be feeling the same way.
While working from home may help "flatten the curve," employees could also be putting themselves at risk for injury, so remind them to practice good ergonomic habits to avoid injuries such as those that occur with repetitive motion.
Laptops are especially problematic. The screen is probably smaller than what your employees are used to and, as the University of California, Berkeley's Be Well at Work – Ergonomic Program describes, "when the screen is at the right height, the keyboard position is too high; when the keyboard is at the right height, the screen is too low." And these lead to either poor neck and head postures or terrible hand and wrist positions.
Fortunately, the Be Well at Work – Ergonomic Program has put together an Ergonomic Tips for Laptop Users flyer with suggestions for setting up your laptop for frequent use:
Maintain a neutral neck posture by placing the top of the screen at about eye level or slightly lower if using bifocal glasses.
Use a laptop stand or place your laptop on a stable support surface, such as monitor risers, reams of paper or phone books so that the screen height can be adjusted.
Attach a regular size, external keyboard and mouse to the laptop, and place them on an adjustable keyboard tray or desk. The keyboard and mouse should be positioned at or slightly below elbow height.
Take frequent stretch breaks every 30 to 45 minutes.
They also crafted an Ergonomic Tips for Working at Home flyer, with pointers on creating both a dedicated workspace and boundaries between work and home. Consider emailing these flyers to remote workers to remind them to practice good ergonomic habits.
Employers also should consider creating a written ergonomics plan for these employees. Consult with legal counsel if you're uncertain about what to include in the plan.
Vannessa Maravilla, Editor, CalChamber
CalChamber members can read more about Repetitive Motion Injuries (including creating a written ergonomics plan) and use the Worksite Ergonomics Evaluation Form on HRCalifornia. Not a member? See how a CalChamber membership can help you.
Access additional COVID-19-related HRWatchdog blogs.