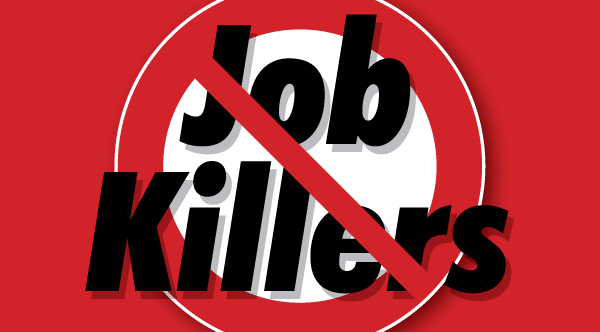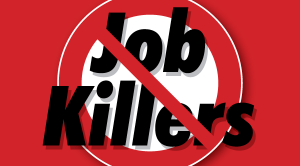 The California Chamber of Commerce yesterday released its annual list of job killer bills, calling attention to the negative impact that 21 proposed measures would have on California's job climate and economic recovery should they become law.
"Each bill on this year's job killer list poses a threat to certainty for employers and investors in our state," said CalChamber President and CEO Allan Zaremberg. "Besides undermining the state's economic health, job killer bills have a cumulative negative impact on the businesses and entrepreneurs who provide the resources necessary to fund critical state programs like health care and education. Legislators must measure the impact that each of these proposed new laws will have, not just when the economy is expanding but also when California experiences the inevitable downturn."
The 2018 list of employment-related job killer bills includes new workplace protections for medical marijuana users, various bills limiting the use of arbitration and other bills that will increase labor costs.
AB 1902 (Levine; D-San Rafael) Interference with Contracts — Discourages and reduces "personal service contracts" as defined, by unfairly increasing the contract price for these services based upon an undefined and unspecified "area income" rate that presumably will include wages from different industries and different occupations that are not comparable to personal services. It also provides the Department of Industrial Relations with extraordinary authority to value companies, determine "similar services" to be included under the provisions of this bill and what constitutes "area income."
AB 2069 (Bonta; D-Oakland) Medical Marijuana in Employment — Undermines employers' ability to provide a safe and drug-free workplace by creating a new protected classification of employees who use marijuana for medical purposes, and exposing employers to costly and unnecessary litigation under the Fair Employment and Housing Act (FEHA) whenever the employer terminates an employee in this new protected class who has created a safety hazard in the workplace.
AB 2527 (Muratsuchi; D-Torrance) Costly Litigation Against Small Employers — Exposes small businesses who are seeking financial investors in their company to devastating class action litigation by banning the use of arbitration agreements, which is preempted by the Federal Arbitration Act, prohibiting class action waivers, allowing for the award of treble damages, punitive damages, and attorney's fees, and interferes with contractual negotiations between sophisticated parties by dictating the choice of forum and choice of law for such litigation.
AB 2571 (Gonzalez Fletcher; D-San Diego) Public Employee Retirement Systems Investment Policy — Seeks to publicly shame investment managers and the hospitality companies in which they invest, by forcing them to submit an annual report subject to a public review, that discloses employee wage information according to gender, ethnicity, and race, exposing such companies to costly litigation.
AB 2765 (Low; D-Campbell) Portable Benefits for The Gig Economy — Imposes onerous and costly mandates on companies in the gig economy labeled as the "digital marketplace" by adding them under the provisions of the Fair Employment and Housing Act (FEHA), expanding the protected classifications under FEHA for contractors of the digital marketplace to include "familial status," and creates further confusion and uncertainty regarding the use and classification of independent contractors. These new mandates will dramatically increase the amount of frivolous litigation under the FEHA and the Private Attorneys General Act (PAGA) for the digital marketplace.
AB 3080 (Gonzalez Fletcher; D-San Diego) Ban on Settlement Agreements and Arbitration Agreements — Significantly expands employment litigation and increases costs for employers and employees by banning settlement agreements for labor and employment claims as well as arbitration agreements made as a condition of employment, which is likely preempted under the Federal Arbitration Act and will only delay the resolution of claims. Banning such agreements benefits the trial attorneys, not the employer or employee.
SB 1284 (Jackson; D-Santa Barbara) Disclosure of Company Pay Data — Unfairly requires California employers to submit pay data to the Department of Industrial Relations creating a false impression of wage discrimination or unequal pay where none exists and, therefore, subjecting employers to unfair public criticism, enforcement measures and significant litigation costs to defend against meritless claims.
SB 1300 (Jackson; D-Santa Barbara) Removes Legal Standing and Prohibits Release of Claims — Significantly increases litigation by removing standing requirement for plaintiff alleging failure to prevent harassment or discrimination when no harassment even occurs, limits the use of severance agreements and prohibits the use of a general release or nondisparagement clause in employer/employee contracts.
SB 562 (Lara; D-Bell Gardens) Government-Run Health Care (2017 Carry Over Bill) — Penalizes responsible employers and individuals and results in significant new taxes on all Californians and California businesses by creating a new single-payer government-run, multibillion-dollar health care system financed by an unspecified and undeveloped "revenue plan."
For the full list of job killer bills, visit CalChamber's Top Story page.
CalChamber will periodically release job killer watch updates as legislation changes. Interested individuals are encouraged to track the current status of the job killer bills on www.cajobkillers.com or by following @CAJobKillers on Twitter.