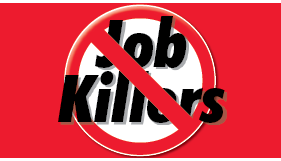 The California Chamber of Commerce yesterday released its annual list of job killer bills to call attention to the negative impact that 23 proposed measures would have on California's job climate and economic recovery if they were to become law.
Earlier this year, CalChamber identified several job killer bills that were moving through the legislative process. CalChamber will periodically release job killer watch updates as legislation changes. Reporters are encouraged to track the current status of the job killer bills on www.cajobkillers.com or by following @CAJobKillers on Twitter.
"Economic growth and job creation are the keys to making California a great place to live, work and do business," said Allan Zaremberg, president and CEO of the California Chamber of Commerce. "The 23 bills on this year's job killer list are a threat to our state's future prosperity and our quality of life.  The goal of the job killer list is to remind California policymakers to keep their focus on the paramount issue affecting their constituents—job creation and prosperity for all."
The 2017 list of employment related job killer bills includes a new leave mandates, a scheduling mandate and other bills that will increase labor costs. 
AB 5 (Gonzalez Fletcher; D-San Diego and Kalra; D-San Jose) New Scheduling Mandate — Would create a new scheduling requirement for small and large employers that would require employers to offer additional hours of work to employees before hiring a new employee or contractor and exposes employers to multiple threats of costly litigation for technical violations that do not cause an employee any harm.
SB 562 (Lara; D-Bell Gardens) Government-Run Health Care — Creates a new single-payer government-run, multibillion-dollar health care system financed by an unspecified and undeveloped "revenue plan" which could penalize responsible employers and individuals and result in significant new taxes on all Californians and California businesses.
AB 1209 (Gonzalez Fletcher; D-San Diego) Pay Data — Imposes a mandate on California employers to collect data on the mean and median salaries paid to men and women under the same job title or description without also considering any bona fide reason for differences in compensation. The bill would expose California employers to costly litigation for alleged wage disparity where no violation of the equal pay law exists.
SB 63 (Jackson; D-Santa Barbara) Imposes New Maternity and Paternity Leave Mandate — Would require small employers with as few as 20 employees to provide 12 weeks of protected employee leave for child bonding and exposes them to the threat of costly litigation.
SB 33 (Dodd; D-Napa) Discrimination Against Arbitration Agreements — Potentially discriminates against arbitration agreements contained in consumer contracts for goods or services with a financial institution, as broadly defined, which is likely preempted by the Federal Arbitration Act and will lead to confusion and unnecessary litigation.
SB 538 (Monning; D-Carmel) Arbitration Discrimination — Potentially discriminates against arbitration agreements by prohibiting arbitration between a hospital and a health care plan or contracting agent, leading to confusion and litigation over preemption by the Federal Arbitration Act.
For the full list of job killer bills, visit CalChamber's Top Story page.
Job Killers Stopped
Two previously identified employment-related job killers were amended and the job killer status was removed, as noted below:
AB 199 (Chu; D -San Jose) Prevailing Wage on All Development Projects — Would have imposed a prevailing wage requirement on all development projects (private and public). With April 6 amendments, opposition and job killer tag removed.
SB 62 (Jackson; D-Santa Barbara) Significant Expansion of California Family Rights Act — Increases costs, risk of litigation and creates less conformity with federal law by expanding the family members for whom leave may be taken, which will provide a potential 24-week protected leave of absence for employers to administer. Gutted and amended March 20 to a different subject. Job killer and oppose tag removed.